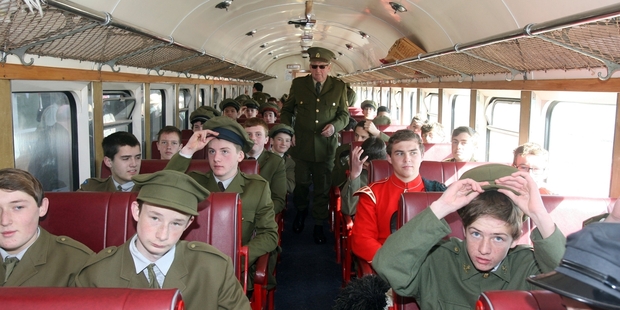 Wairarapa wound back the clock to August 13, 1914, yesterday and to the strains of Bless 'em All sent 64 of its finest young men off to war.
But the soldiers who took part in the re-enactment marking 100 years since Wairarapa's first contingent left for the front did so happy in the knowledge they would be returning to a warm bed and their families only hours later, unlike those who departed to fight in World War I.
An estimated 1000 people joined in the festivities yesterday that from all accounts mirrored the real departure 100 years before with perhaps the greatest blessing being the weather.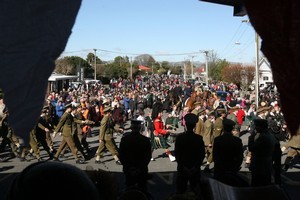 App and mobile users click here to view video
Young troops who had been practising and preparing for the re-enactment for months marched into the town square, as Masterton South Rotary Singers sang songs from the period including Pack up Your Troubles and It's a Long Way to Tipperary.
The troops assembled in four platoons of 16 to hear farewell speeches from Wairarapa MP John Hornsby (Steve Lillyston), Masterton mayor James Coradine (Colin Denby), and mayoress Sarah Coradine (Lyn Patterson.)
The patriotic speeches spoke of the " right, just and proper" cause the men were embarking on, reminded them that nothing could be gained except by sacrifice and implored their families left behind to support them and be proud of them.
A roll call of the assembled soldiers was called as below the stage four actors stood representing Major Herbert Hart (Carterton), Captain Edward Saunders (Featherston), Lieutenant Raymond Lee (Masterton) and Captain Norman Cameron (Mounted Rifles).
Two clergymen Reverend McKenna (Julian Wagg) and Reverend Watson (Merv Jones) bid the young men Godspeed and a safe return and offered blessings as they headed away on their " great adventure".
The soldiers, watched by hundreds, marched up Perry St proceeded by a banner proclaiming Wairarapa contingent leaving for the front, August 13, 1914, with vintage cars lining the street and to the music of the Fern and Thistle Pipe Band to regroup at Masterton Railway Station.
There they were greeted by the Masterton Municipal Band and Wairarapa Singers with a rendition of Red, White and Blue before farewelling their loved ones and boarding the train to take them on the first leg of a journey, ultimately to war.
Yesterday's train journey was, in fact, to Mauriceville and back and was supposed to be by a steam train pulling period carriages.
As with any war preparation there was a slight glitch in that the steam train to be provided by the Feilding and Districts Steam Rail Society failed with its certification just a few days prior and had to be substituted with a modern-day diesel locomotive.
Spectators at yesterday's troop departure were fulsome in their praise for those organising the re-enactment, especially artistic director Marilyn Bouzaid and events manager Rowena Patterson.
The young men who made up the 64 soldiers in the re-enactment were drawn from Wairarapa College, ATC, Makoura College, Kuranui College, Chanel College and Rathkeale College.
Their uniforms were a challenge but that was met by sourcing as many articles as possible from within Wairarapa and calling on two costume suppliers from Wellington.
It is not known how many of the 64 World War I soldiers they represented actually returned from the conflict but Wairarapa war historian Neil Frances said of the first 100 men to join the fight from Wairarapa 23 were killed.
For more articles from this region, go to Wairarapa Times-Age