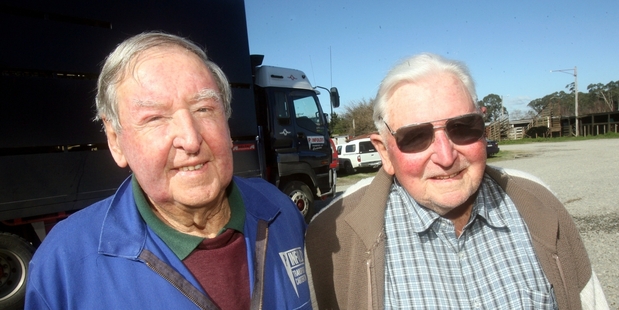 Carterton identity Alf Bird was no quitter.
Not only did he work fulltime as a truckie well into his 90s but he remained married to wife Hazel for 77 years.
The work came to an end not long ago when health issues finally forced Elfred (known as Elf or Alf) Bird to hang up his banjo shovel, and the marriage ended when Alf died peacefully in his sleep on July 30.
He was 96, a few months older than his widow, Hazel, who now lives at Greytown Lifecare where Alf spent the last couple of days of his long life.
A self-employed contractor, Alf started up in business in Carterton in 1938, having bought Mick Taucher's business.
Soon after he started in business World War II broke out and Alf was declared an essential worker but still contributed to the war effort using his truck to ferry home guardsmen to various points around the Wairarapa coast during manoeuvres.
Hazel did her bit, too, and at one time nursed wounded Japanese prisoners-of-war shot in the skirmish at Tauherenikau.
In the early days Alf's truck was emblazoned with the words "E.A. Bird, carrier, Carterton", until all three of his sons, Ross, Alan and Rex joined the firm and the company became E.A. Bird & Sons.
Remarkably Ross and Alan remained with the firm until they both retired.
Rex started work for Barns the Mower People in Masterton as an apprentice working with chainsaws and small motors but he, too, joined the family firm and worked alongside his dad and his brothers until he died in 1976.
Alan Bird said it was a harmonious situation.
"It was a great relationship. We never argued, just got on with the work."
When he turned 90 Alf was interviewed by the Times-Age along with his old mate, Podge Pinfold, who was five years younger and like Alf was still working fulltime for the trucking company he owned, Pinfolds.
At that time the two mates had clocked up a combined total of 131 years as carriers.
Podge died the next year but Alf carried on for as long as his health allowed.
In his last years Alf steered away from operating heavy equipment, his excuse being: "There are no grease nipples in a human neck so I find it a bit tough to twist my head round all the time."
He also reckoned the best advice he had ever been given was by a doctor when he was 25.
That had been to toss away smoking - and he did.
As a 90-year-old Alf scorned the idea of retiring, being then the oldest fulltime worker in Wairarapa.
By all accounts when he died at the end of last month he ended Wairarapa's longest marriage, perhaps even the longest marriage in New Zealand.
A private family funeral service has been held for Alf, who is survived by Hazel, his sons Alan and Ross, seven grandchildren and nine great-grandchildren.
For more articles from this region, go to Wairarapa Times-Age