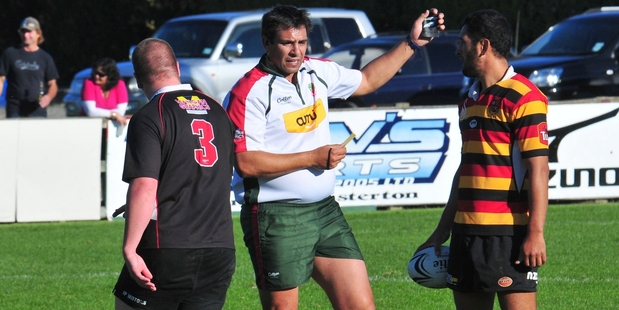 It will be a notable occasion on two fronts when Chris Jefferies referees the grand final of the Wairarapa-Bush Rugby Union's Tui Cup premier division competition at Memorial Park on Saturday.
For Jefferies, 43, it will be the sixth successive time he has had control of the highlight of the club season but, more than that, he will be officiating in his 100th premier division club game.
"It's nice to bring up the three figures with a grand final, you don't really think of things falling into place like that, do you?" Jefferies said yesterday.
He became involved in refereeing only eight years ago and rose quickly on the local scene, earning plaudits for his ability to stay calm in pressure situations, a trait which he believes was helped by him having played more than 100 rep games for the Wairarapa senior men's cricket team.
"Cricket teaches you to handle pressure, you don't have any place to hide there," Jefferies said.
"It was good to have that background when I came into refereeing, I do get a bit nervous but not too much."
Jefferies works on the principle that referees should be determined to do their best no matter what level of rugby they are controlling.
"At the end of the day a grand final is just another game of footy, the rulings you make there are no different than you'd make for a lower-grade match," he said. "It is a bigger occasion but rules are rules, you apply them the best you can, it's the same in every game."
Jefferies is expecting a closely contested Tui Cup final between Eketahuna and Gladstone on Saturday but he knows only too well such predictions can be well astray if one of the sides fails to front up on the big day.
"We've had a couple of finals in recent times where the winning margin was a lot bigger than most people anticipated. You can never be too sure how teams will respond when so much is at stake."
As to the future, Jefferies has no definite plans to ease back on his refereeing appointments but admits the days of him controlling finals may be coming to an end simply because of the number of younger referees in Wairarapa-Bush who are showing considerable promise, people such as Alistair Payne, Shay O'Gorman and Scott Andrew.
"We're very fortunate with the calibre of the younger guys coming through, refereeing is in really good hands here," he said.
For more articles from this region, go to Wairarapa Times-Age