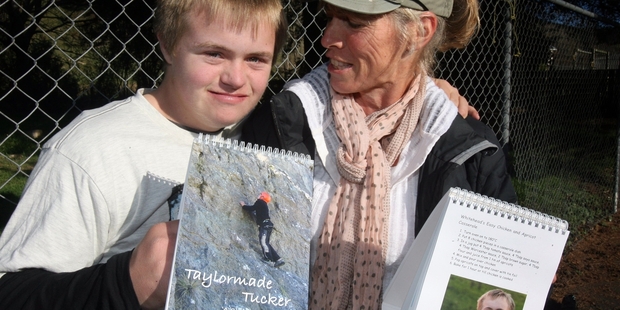 Tinui School pupil Ben Taylor has launched his very own cookbook - Taylormade Tucker: A Childhood Journey - to help share his recipe for the good life.
Ben, 13, and his mum Sandy started selling the first 200 editions of the book, which were each signed and sold with a complimentary baked sweet, at the Tinui School Market Day held Thursday on the school netball courts, where a range of food and handmade items produced by pupils were up for sale as part of a lesson in finances.
The 'hot off the press' publication, which is in its first sponsored run of 500 copies, boasts 140-plus recipes for a banquet of simple but nourishing dishes, sauces and side plates presented alongside photographs of Ben and anecdotes from his primary school years, and images of the wider Tinui to Castlepoint district he calls home.
Ben has Down Syndrome and next year starts at the Supported Learning Centre at Wairarapa College, his mum said, where he will enrol as a boarder with his brothers Wills, Year 10, and Morgan, Year 11.
Ben has been a pupil for eight years at Tinui School, where his younger sister Maddy is also enrolled as a Year 6 student.
His mum said the initial idea behind the book was to gather together a bunch of recipes Ben could use when he flew the coop, but the scope of the publication widened to embrace his time so far as part of the rural Wairarapa community.
"At the end of this year he moves on to the next chapter of his life at Wairarapa College and the idea was to give him a cookbook for that time when he may need it, and to leave his legacy for Tinui, to say thanks for his foundation years."
Ben had on most Mondays this year honed his cooking skills in the school kitchens, she said, making smoothies in the first term and "more than 40 hot dogs at a time" in the second term and selling what he made to his hungrier schoolmates.
She said there were recipes in the book with which Ben was confident, and others he was yet to master.
"Some are still a challenge for him but that will allow him to grow into the book," she said.
"We wanted to fill it with everyday recipes people could use every day. From meatballs to toasties, or if you have kids leaving home who don't know how to make white sauce, scramble eggs or boil veges.
"It's also full of anecdotes and little stories, snapshots of things Ben has done. Quirky phone calls, ripping on the throttle not the brake, getting lost in shopping malls - things most kids and their parents can relate to, that I hope will create conversations among readers," she said.
"I hope people will turn the page and smile, turn the page and smile, as one friend put it."
Mrs Taylor said close to 40 businesses and community groups had helped sponsor the publication of the book and the Taylor family was grateful to all who helped as sponsors, friends or supporters.
"The sponsors, the school, the Tinui community and all those communities of people beyond the district have really helped set things up for Ben.
"Ben is a very confident kid and we hope the book projects that. These kids really can do anything and with the right support, opportunities and experiences they really are great to have around. They're a good tonic," Mrs Taylor said.
"He's confident and ready to go on to the next stage. They've all prepared him really well for his next challenge and all deserve our deepest thanks."
Copies of Taylormade Tucker: A Childhood Journey are available through Tinui School and through the Taylormade Tucker Facebook page.
For more articles from this region, go to Wairarapa Times-Age