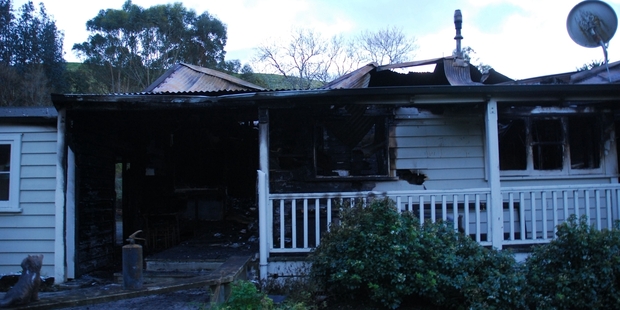 Fire raced through a country farmhouse in Pa Valley Rd, Alfredton, on Wednesday afternoon, leaving parts of the exterior walls standing but destroying practically everything else.
The home belonging to Tom and Lisa Sims is thought to have caught fire soon after 1pm and fire crews from Eketahuna, Pahiatua and Woodville were called.
A tanker was also called in from Dannevirke but was not used as plenty of water was available on the property to fight the blaze.
The Sims family are well known in the area through their farming operations, links with Alfredton School, their work in the small community and the sporting success of the couple's children.
Mrs Sims runs a consultancy called Lisa Sims Ltd, working for several major clients including Lands Trust Masterton and Pukaha Mt Bruce.
Firefighters reported the lounge and kitchen areas of the house were totally destroyed, along with the ceilings throughout the home.
Much of the rest of the home was either badly fire damaged or heavily smoke and water damaged.
The cause of the fire is not known and fire safety inspectors were yesterday expected to visit the farm, which is about a 20-minute drive from both Eketahuna and Pahiatua.
Eketahuna fire chief Max Mayer, who was officer-in-charge at the scene, said his crew had arrived at the farm 20 minutes after the siren went up to rally the volunteers.
"We could see lots of smoke when we were about 3-4km away from the house, and when we got there there was huge amounts of smoke billowing out from the eaves," he said.
Mr Mayer said first impressions were that the seat of the fire was in the kitchen/lounge area.
"We managed to save much of the bedrooms and outside walls but the house is pretty much a write-off," he said.
It had taken about an hour to get on top of the blaze.
Pahiatua fire chief Peter Daymond, whose crew were back-up for Eketahuna, said the house had been well alight. Pahiatua had not stayed until the end, because they were needed back at base to provide cover for the district.
For more articles from this region, go to Wairarapa Times-Age