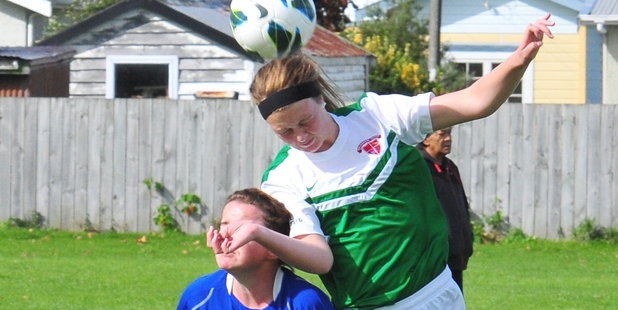 Wairarapa United are well on the way to winning promotion from Capital Football's third division women's competition - and they're doing it in style.
Wairarapa United need to be at the head of the points table at the end of one complete round of matches to secure promotion, and with four wins from as many games they have already opened a 5 point lead on their nearest rivals.
Their latest success, a 15-0 thumping of Petone at Howard Booth Park in Carterton on Sunday, would usually be big news because of the size of the victory - but it was just more of the same. To date they have scored 45 goals and conceded only two.
While "very mindful" that some of the opposition hasn't been out of the top draw, coach Phil Keinzley has been pleased with the progress made by the squad.
"A lot of the players were pretty green when we started off but they are coming along well," he said.
"There is still a long way to go before they could foot it in the premier grade but they are heading in the right direction."
Up 5-0 against Petone at halftime Wairarapa United raised the ante in the second half, adding a further 10 goals to their scoreline. Striker Lizzie Kedwell was a thorn in the side of the Petone defence while Radha McGlashan was prominent on attack and defence.
The Wairarapa United second men's team also piled on the goals in their Capital second division fixture on Sunday, beating Wellington Olympic 15-3. Seven of the goals were scored by Thomas Hemi, who was in outstanding form up front, but the player of the match was central fullback Chris Cox. He was a tower of strength on defence and was a clever and accurate distributor of the ball.
Wairarapa United now lie fourth on the second division points table, one behind the other Wairarapa team competing at that level, Douglas Villa. The latter drew 1-1 with Tawa on Saturday while in third division play Masterton lost to Stokes Valley 1-0 and Greytown went down 3-2 to Petone Armanis.
Meanwhile, the Central League Wairarapa United men's impressive 3-1 win over Western Suburbs in Wellington on Saturday has them sitting fourth on the Central League points table.
Unbeaten Miramar Rangers have 12 points, followed by Wellington Olympic 10 points, Napier City Rovers 9 points, Wairarapa United 7 points, Lower Hutt City 6 points, Petone 5 points, Western Suburbs 3 points, Palmerston North Marist 3 points, Tawa 3 points and Upper Hutt City 0 points.
For more articles from this region, go to Wairarapa Times-Age