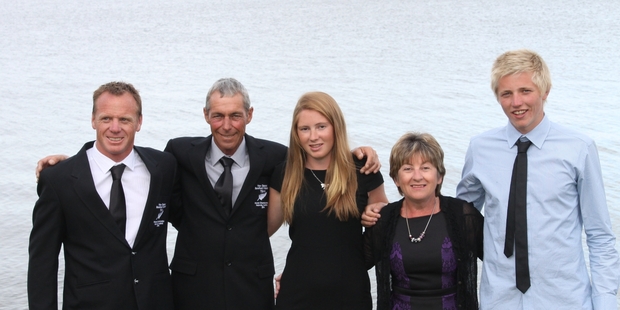 Little wonder manager Ross Linton was rapt with the success of the New Zealand contingent at the world barefoot water skiiing championships in Australia.
Linton, from Greytown, was in charge of a squad which produced the best-ever results for this country. They were runners-up in the open and senior teams events and third in the junior and won the overall individual titles in two sections; senior men and junior women.
"The commitment and camaraderie was just awesome," Linton said. "And that is not only from the skiers but from parents, partners and supporters as well."
Linton is also president of the Ruamahanga Barefoot Waterski Club which provided two of the Kiwi squad; Bevan Kelly and Sarah Linton.
Kelly - the Ruamahanga head coach - was a star performer, winning the world senior title for the second time, having tasted success in Germany in 2010. He smashed his New Zealand record to take silver in the tricks discipline, took gold in jumps and bronze in the slalom and picked up the overall championship by gaining the most overall points, just ahead of Australian Ken Derry.
He also earned a silver as a member of the second-placed New Zealand senior line-up.
It was a busy few days for Kelly who competed in the open division as well. It was not unusual to see him running between lakes to fulfil his hectic programme.
Sarah Linton, daughter of Ross and Eileen, who just happens to be Ruamahanga club and national body treasurer, scored a personal best in the elimination round of the women's open jump event and then proceeded to do likewise in the semifinals. She made the semifinals for all three of her disciplines but with only the top five going through to the finals she narrowly missed attaining that goal. Her world ranking is now an impressive sixth. Linton did not come away empty handed though, being part of the New Zealand team which finished second in the open teams event, the best result for the Kiwis in that section since 1978. Australia took gold and United States the bronze.
The other world champion for New Zealand was Brooke Finch of Palmerston North who blitzed her rivals in the junior girls division. She won all three disciplines to claim the overall title.
For Ruamahanga skier Edward Phelps, being treated to the worlds by parents Tony and Jill for his 18th birthday became even more special when he was given the task of jetski driver, a job which entailed picking up the skiers whenever they had a fall. He spent up to eight hours a day doing just that and was able to rub shoulders with some of the world's best.
No doubt he was quick to find out what caused their troubles, information which could come in handy if he happens to make the New Zealand team for the next worlds in Wisconsin, United States, in 2016.
For more articles from this region, go to Wairarapa Times-Age