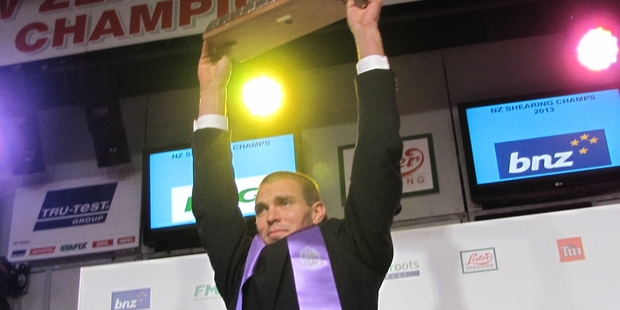 Defending champion Rowland Smith remains the favourite for the open title at the 54th Golden Shears- but talk to any of the pundits and they will tell you an upset is on the cards.
Their assessment is not based on any apparent crack in the armour of Smith, who has been in outstanding form of late, but reflects the equally fine form being demonstrated by several other proven campaigners.
As landlords of the venue, War Memorial Stadium, Masterton District Council probably won't mind if the legendry David Fagan is among the also-rans. Chances are the noise will take the roof off the stadium if he happens to win the coveted crown for the 17th time in a glittering career.
The event gets under way in Masterton today.
Fagan, in his early 50s, shows few signs of slowing up, and the TAB bookies have him third favourite, behind Smith and John Kirkpatrick, another to have won the open title on multiple occasions.
Kirkpatrick always has a veritable army of fans when he comes to Masterton and, like Fagan, his form gives no indication he is on the slide - just the opposite.
Cam Ferguson has also tasted success at Golden Shears before and it was reported last week that one punter had invested $1000 on his winning the open title.
Dion King triumphed at last Sunday's Pahiatua Shears and he has a habit of being prominent in the Golden Shears too and it would be something special if Pongaroa's David Buick came out on top.
He is the big hope for Wairarapa and his form is such he can't be discounted.
TAB odds are: Rowland Smith $2.50, John Kirkpatrick $3.50, David Fagan $5, Cam Ferguson $6, Dion King $10, David Buick $20, Nathan Stratgford $30, Gavin Mutch $30 and Mark Grainger $30.
Reigning champion Joel Henare and 2010 world companionship team member Keryn Herbert will head a classy field competing for the open woolhandling title and there will be a strong overseas presence throughout the three days of competition with at least nine countries represented on the entry list.