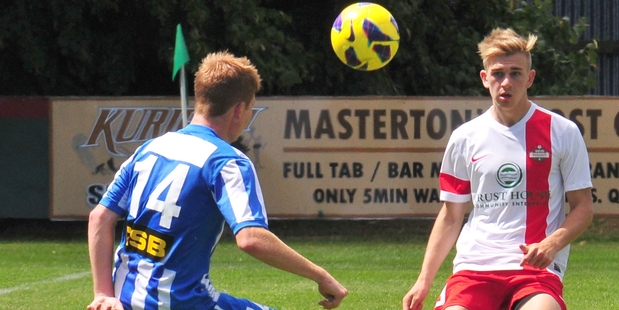 Heartland Wairarapa is taking bold steps to enhance their attacking play in their national youth league football match with Canterbury United in Christchurch tomorrow.
Coach Pedro Garcia knows the importance of making the most of every scoring opportunity against opposition sitting second on the southern conference points table and intends to play two of his Wairarapa-based players, Thomas Hemi and Arnon Tapp, in a dual striking role.
Being up front is nothing new for Hemi, who has been there through most of the season, but for Tapp it is a change from his regular role in midfield, where he has been one of the side's most consistent performers.
Garcia believes Tapp has the skills to make a good fist of the challenge of adding extra oomph to the attack.
"He likes taking the opposition on and he has an ability to make space for himself. He's a pretty handy player," Garcia said of Tapp.
The Heartland Wairarapa coach was at pains, however, not to give the impression he was unhappy at the impact made by Thomas Hemi, the team captain, in an attacking sense.
"Thomas has played well but he's often been isolated, having Arnon alongside him should bring out the best in him too. Between them they should do a good job."
Garcia is also keen to lift Heartland Wairarapa's defensive effort after some early second half lapses had them go from 1-0 up at halftime to 2-1 down early in the second spell in their match against unbeaten Nelson Marlborough Falcons in Masterton last weekend.
And that was the end of the scoring despite Heartland Wairarapa spending most of the last 10 minutes deep in Falcons territory. "Quite honestly I was disappointed we lost that game. We did enough to at least get a draw but we had those few minutes where the concentration dropped and they got two goals.
"You have to learn from those sort of things."
Overall, however, Garcia is happy with the progress made by Heartland Wairarapa since he took over the coaching reins in the past month, especially in the manner in which they have responded to his call to retain possession by playing a short passing style of game.
"The more ball you have the better chance you have to score. It really is as simple as that."
Missing from the Heartland Wairarapa squad tomorrow will be one of their best performers in the Falcons match, Kurt Mildenhall, who is on a one-game suspension, but sure to be in the starting line-up are two others who made a big impression, Mark Hemi and Liam Hare. Hemi, brother of Thomas, was full of vim and vigour down the right wing while Hare was his usual composed self in midfield, and showed another string to his bow by scoring his team's first half goal with a telling strike from long range.
Southern conference points table: Nelson Marlborough Falcons 21, Canterbury United 13, Team Wellington 12, YoungHeart Manawatu 6, Heartland Wairarapa 6, Southern United 5.
Tomorrow's draw: Canterbury United v Heartland Wairarapa, YoungHeart Manawatu v Southern United, Team Wellington v Nelson Marlborough Falcons.
For more articles from this region, go to Wairarapa Times-Age