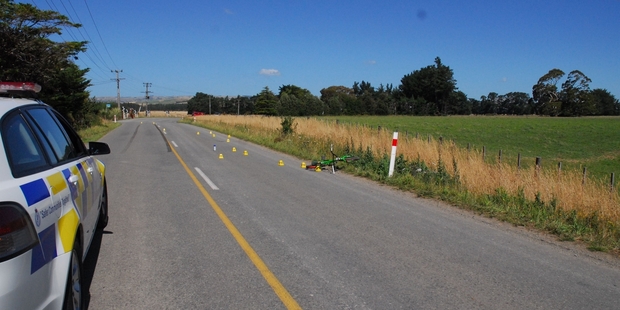 A cycling advocacy group is still backing a law change to make cycle helmets optional, despite a road crash that fractured the skull of a teen Carterton cyclist who was not wearing a helmet at the time.
Kuranui College student Matthew Pike was rushed to Wellington Hospital after he was hit while riding his bicycle in Park Rd, Carterton, last week.
Along with his skull being fractured in two places, Matthew, 14, suffered a bruised lung and sprained ankles.
His mother, Lisa Pike, said the family is waiting to hear if Matthew needed to be transferred to a specialist rehabilitation centre in Auckland.
"He's stable at the moment ... he's good one day and not very good the next day ... and he's got a long way to go yet before he's any way back to normal. [When it's a bad day] he's tired and in a lot of pain," she said.
Mrs Pike said her son usually wore a helmet when riding his bicycle. "Matthew's usually so good with helmets but for some reason, I'm not sure why, he just didn't have one on this time," she said.
Despite this Mrs Pike said she didn't think a helmet would have made a difference.
"Getting hit at 100 km/h, I don't think it matters whether you wear a helmet or not, it's going to do some wicked damage."
The compulsory cycle helmet law was passed 20 years ago.
The Cycling Advocates' Network (CAN) say the law needs to be changed to make helmets optional so that more people take up cycling and benefit from regular exercise.
CAN spokesman Patrick Morgan was sympathetic towards Matthew but remained firm in his position on optional helmets.
"My heart goes out to the young guy in hospital ... if helmets were a bit better I'd be all for it [compulsory helmets] but evidence doesn't show that, so I don't think we should be relying on them.
"It offers protection against a slow-speed fall but it's not a magic object that will definitely save your life," Mr Morgan said.
Countries without a compulsory helmet law, he said, were much safer for cyclists than New Zealand.
"There is no evidence that making bicycle helmets compulsory leads to better safety outcomes ... there's some evidence that wearing a helmet can increase risk in a crash."
For more articles from this region, go to Wairarapa Times-Age