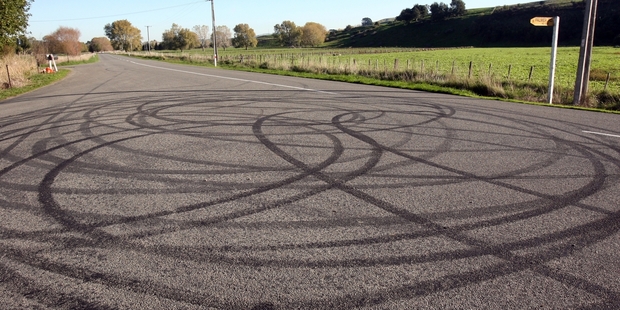 More than 60 Wairarapa boy racers have been convicted under new laws brought in to crack down on illegal street racing.
Figures released under the Official Information Act show Masterton recorded 62 street racing convictions between December 2009 and June 2013.
Four were second strike convictions.
"Boy racer legislation" introduced in 2009 gave courts the power to destroy an offender's car if they ticked up three illegal street racing offences within four years.
Offences include racing and excessive speeding, and "sustained loss of traction", which includes "burnouts" and "drifting".
Wairarapa Road Safety Council manager Bruce Pauling said there was still a small "hard core" of young street racers in Wairarapa.
"They [flout] the law and do some dangerous stuff and make the wrong choices and you can see evidence when you travel to work in the morning and there's a new patch of burnouts."
The boy racer legislation had worked as a deterrent in recent years, but wasn't a "silver bullet", he said.
"Everyone knows the consequences, everyone knows the penalties ... if they are caught and they lose their vehicle, for some of them that will stop them, but for others they can get their hands on other vehicles and they do it again.
"Road safety messages are getting through to [young people] but you've always got to be vigilant."
A culture change was necessary to get rid of the boy racer attitude, Mr Pauling said.
"It's totally dangerous and totally irresponsible. [Racers] are not only putting themselves and their passengers at risk, but other road users."
Nationally, Ministry of Justice figures record 5002 street racing convictions, with 10 offenders notching up three or more convictions since the legislation was introduced.
The first car to be flattened under the boy-racer legislation was at a Lower Hutt scrap-metal yard in June 2012, after its owner was convicted of his fourth driving offence.
Two more have been crushed since then - the most recent a 1995 BMW belonging to Tauranga boy racer Braedyn Clothier.
Christchurch took the title of New Zealand's boy racer capital. It recorded 618 street racing convictions since 2009.
Corrections Minister Anne Tolley said the new laws were proving effective.
"These laws ... gave the courts the power to seize and destroy cars of repeat offenders, allowed councils to outlaw boy racers cruising the streets, and made it easier to impound vehicles caught racing."
Between 2009 and 2012, the number of infringement notices issued for illegal street racing fell 35 per cent, she said.
"Crushing cars, good police work, raising the driving age to 16 and lowering the youth drink drive limit to zero, is reducing the number of tragic deaths and injuries of young lives on our roads." - APNZ
For more articles from this region, go to Wairarapa Times-Age