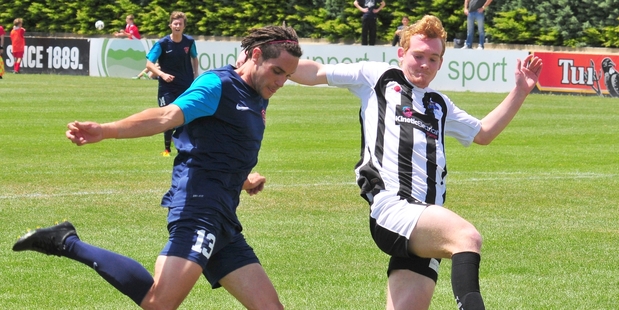 Heartland Wairarapa have a huge mountain to climb if they are to make a successful debut in the national youth football league at Memorial Park, Masterton, tomorrow.
Up against a powerful Team Wellington combination, Heartland Wairarapa will start rank outsiders with even stand-in coach Phil Keinzley admitting victory would be seen as a major upset.
"Whichever way you look at it, the odds are against us. It's a massive challenge," Keinzley said. "Just being competitive will be a big ask, that's how tough it is."
Even the most cursory of glances at the make-up of the Wellington squad highlights their depth of talent. Two of their players, Joel Stevens and Dan Clarke, featured for New Zealand under-20 this year while three others, Andrew Blake, Tamupiwa Dimairo and Clayton Lewis, have played for New Zealand under-17s. And at least nine in the squad have played at Central League level on the interclub scene.
Five of the Heartland Wairarapa line-up are locals - Thomas Hemi, Liam Hare, Mark Hemi, Arnon Tapp and Kurtis Paine - with the rest coming from Wellington-based clubs after missing out on selection in the Wellington team.
Keinzley says his side will measure up to their opposition in at least one area, enthusiasm, but he agrees Wellington are likely to have the edge on them in a technical sense.
"We've got a really good group of young guys who will try hard but most of them are still very much at the learning stage of their careers."
With Wellington certain to place the emphasis on attack, Heartland Wairarapa's defensive structure is sure to be placed under the microscope on a regular basis and, consequently, it has been the centre of attention at training sessions.
"The big thing for us is to retain possession, the longer the better," Keinzley said. "Giving ball away will be a no-no against a team like Wellington. They'll come at us from everywhere if we keep doing that."
It will also be important the link between the Heartland Wairarapa midfield and strikers allows the latter to place their own form of pressure on the Wellington defence. Playing a key role there will be Pedro Garcia, the Upper Hutt Central League player-coach who will be one of the two allowed over-age players in the Wairarapa side. Thomas Hemi, a regular in Wairarapa United's Central League squad last season, is the other.
Keinzley believes there is enough strike power in the Heartland Wairarapa forward line to trouble Wellington, provided the service given them is up to scratch.
"It's all about the midfielders taking the right options. If they can give the forwards the chance to run on to the ball at speed then the goals will come."
All teams contesting the 2014 national youth league will wear black armbands tomorrow in memory of Miroslav Tvaroh, the Heartland Wairarapa coach who died tragically at Castlepoint late last month. There will also be a minute's silence before each of the games. Kick-off at Memorial Park is at 2pm.
For more articles from this region, go to Wairarapa Times-Age