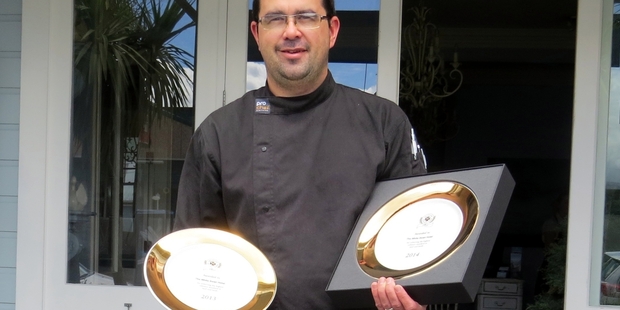 If you are after an inspiring beef or lamb dish, the White Swan in Greytown has the chops to serve you up one.
Head chef Craig Wingate has been serving a number of quality beef and lamb dishes over the past few months and has been rewarded for his efforts with the beef and lamb excellence award judged by Beef and Lamb New Zealand.
"The judging is anonymous and they send through more than one set of judges within a 3-4 month period so you have to make sure your standards are consistently very high," Wingate said.
Restaurants were judged on all elements of their dishes from composition to taste, degree of cooking and tenderness.
Wingate has been head chef at the White Swan for two years after a stint in the UK. The restaurant has received the award for both years Wingate has been involved.
He puts it down to a combination of great produce, flavours and consistent fine dining.
"The dishes that won the award were both high quality cuts of meat. The puree on the beef is an interesting mix of flavours (cauliflower and cumin) and the tequila and honey jus on the lamb rack is exceptional.
"Receiving an award like this is always good. It keeps us up with the other local talent and makes us sure to keep our standards high," Wingate said.
Other Wairarapa restaurants to receive the award this year include the Bloom Restaurant in Martinborough, The Grill at Solway Park in Masterton, Pavilion Restaurant in Martinborough, Tirohana Estate in Martinborough and the Wharekauhau Country Estate in Featherston.
Beef and Lamb New Zealand chief executive Rod Slater said the award has become prestigious due to the length of time it has been running for.
"This programme has been running for 17 years now, the fact restaurants still take such pride in being named an award holder is testament to the programme's credibility," said Mr Slater.
For more articles from this region, go to Wairarapa Times-Age