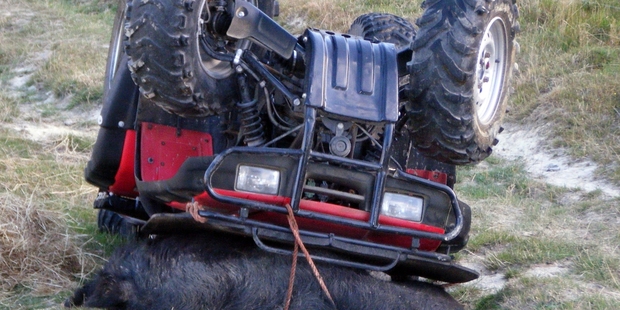 Federated Farmers has welcomed a coroner's report on quad bike-related deaths in 2010 and 2011.
Whangarei Coroner Brandt Shortland this week released findings into five workplace quad bike deaths.
Federated Farmers Health and Safety spokeswoman Jeanette Maxwell said it was encouraging that Mr Shortland's recommendations were "inherently practical".
His recommendations include using helmets at all times, regular testing of after-market attachments, consideration for quad bikes being licensed or warranted, and consideration for a warning signal or alarm when a quad bike is in reverse or in danger of tipping.
Ms Maxwell said the coroner's findings recognised the practical realities of using quad bikes in a farm setting.
"We also agree with Mr Shortland that farmers must ensure quad bike users are trained in their safe operation.
"Federated Farmers stresses that users must ride age-appropriate bikes whether that is a quad or a farm bike.
"When it comes to safety messaging the entire industry is pushing it and that includes helmet use."
The ministry's general manager Health and Safety Operations, Ona de Rooy, said five people are killed and 850 are injured on farms each year.
"In the new year the Ministry will be calling together all the parties involved with quad bikes - manufacturers, farming leaders, community leaders, trainers and the regulator - to work through how these recommendations could be implemented.
"The forum will also consider what other actions could be taken to reduce the deaths and injuries from inappropriate quad bike use.
"Coroner Shortland says a farmer's safety is compromised when a quad bike is used beyond its capability and outside the strict safety guidelines and he endorses the Ministry's quad bike harm reduction programme's key steps for safe use of the machines," Ms de Rooy said.
"The Ministry fully agrees with his position that the rural sector and communities associated with farming should stand up and take leadership and ownership of health and safety issues including quad bikes without the threat of enforcement and prosecution from the regulator."
For more articles from this region, go to Wairarapa Times-Age