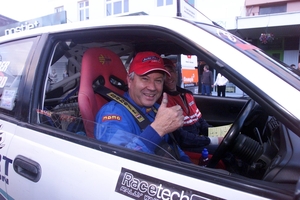 A man whose name was synonymous with motor sport and business in Wairarapa has died.
Roger Brader, 64, lost a short but brave fight with cancer but leaves behind a legacy to rallying - the sport he loved - that will inspire younger participants for years to come.
Cars were a huge part of Mr Brader's life on and off the track as he started the business now known as Braders Car Court building it into a highly successful motor vehicle dealership.
Although born in Masterton, Roger Brader attended Carterton School - his mother ran a retail business there - and returned to Wairarapa College for his secondary schooling.
On leaving school he began an apprenticeship at Wagg Harcombes, becoming a qualified panel beater. He worked for Des Bradley Motors and then the FCDC selling cars and when the father of a friend put up finance the young Mr Brader started in business selling vehicles in partnership trading as Chapel Street Car Court.
When the partnership ended he stayed on the site re-naming the business Braders Car Court and remained there for the next 30 years.
His love of motorsport began in earnest when he was 19 when he bought a two-year-old MG Midget and competed in grasstrack racing, hill climbs and sprints.
After that came a 1970 Escort 1300, then a succession of other cars including a new Torana XU1, and a V8 Torana.
Mr Brader teamed up with Masterton chemist and motorsport fan Wayne Fuller and drove with great success in circuit races driving an FVI escort fitted with a 450hp Camaro engine.
Prior to that the car had sported an ex-Paul Fahey engine and in it Mr Brader set a standing quarter sprint record of 13.7 seconds in his class.
Rallying was not all wine and roses.
In the mid 1970s while competing in a Pall Mall championship event in Marlborough Mr Brader's car hit a rock which deflected the car into a bank and over a cliff.
He and his crew were unhurt but the car was wrecked.
Mr Brader took a break from rallying from 1976 to 1986 while he and his wife Robyn raised their sons.
He returned at the end of that lengthy sojourn with the same vigour and continued to enjoy the sport right up until the time he was diagnosed with the terminal illness that claimed his life.
In March this year Mr Brader was honoured by being invited to participate at Rod Millen's Leadfoot Festival in Coromandel, performing with credit.
The festival is restricted to invitation only drivers, with many world famous names, and is regarded in the sport as a goal drivers aspire to.
Apart from cars Mr Brader loved spending time with family - especially his grandchildren - and friends, and fishing.
He and the family spent time on lake Taupo fishing for rainbow trout and enjoying their holiday home and boat there.
His funeral service was held at his home in Chamberlain Rd, Masterton, last Saturday.
For more articles from this region, go to Wairarapa Times-Age