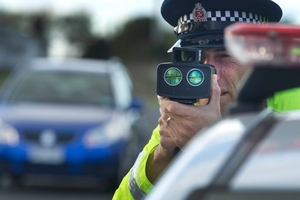 Police warn the speed tolerance for Labour Weekend will be 4km/h for all posted speed limits.
They will also be blitzing seatbelts for adults and children.
The 4km/h concept, as opposed to 10km/h, was introduced for holiday weekends in 2010 after an Easter break when 12 people died on the roads.
Central District road policing manager Inspector Dave White said his district had some of the most frequently used roads in the country and he warned of congestion.
"Making sure your vehicle is fit for the journey and listening to radio traffic updates before you embark could save you unwanted frustration in the long run," Mr White said.
"Police want you to get to your destination safely rather than not at all."
For the duration of the official holiday period, which runs from 4pm Friday, October 25, until 6am Tuesday, October 29, the speed limit tolerance is 4km/h for all permanent posted speed limits.
This means that police will take action where vehicle speeds are checked at more than 4km/h above the posted speed limit.
Mr White also reminds motorists to watch their speed and following distance, take a break if fatigue starts to set in, and never drink and drive.
"Motorists can help us keep the roads and highways safe by taking responsibility every time they get behind the wheel," said Mr White.
He reminds motorists that on November 1 mandatory use of child restraints in vehicles will be extended by two years. This means that all children will need to be correctly secured in an approved child restraint (including booster seats) until at least their seventh birthday.
For more articles from this region, go to Wairarapa Times-Age