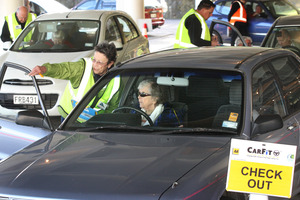 Wairarapa has more senior drivers on the road and people should show them tolerance, says Wairarapa's Road Safety Council.
The district has an ageing population and the council recognises the need for more refresher courses for senior drivers, manager Dave Ryan said.
A new survey shows the proportion of over 65s who drive has grown by about 10 per cent in the past decade to 91.4 per cent.
Nationally, that equates to about 170,000 more senior motorists on the road, making over 65s the third largest bloc of road users behind 35 to 49-year-olds and 50 to 64-year-olds, the Roy Morgan research shows.
In Wellington region, which includes Wairarapa, 92.4 per cent of over-65s surveyed are still driving, with most driving between 10,000 and 12,500km a year.
Most senior drivers planned their route to avoid busy traffic times, but accidents did sometimes happen, said Mr Ryan.
"We do have some spectacular incidents - the common one is they accelerate instead of brake."
Older drivers had slower reaction times and lacked confidence, much like learner drivers, so tended to be more cautious at intersections, he said.
"We just really need to be more tolerant of other road users."
The research shows seniors are now more likely than under-35s to drive.
"The decline in driving among younger people correlates to an increase in public transport usage," Roy Morgan general manager Pip Elliott said.
"For instance, in the year to August 2003, 25 per cent of all 25 to 34-year-olds travelled by bus within an average three months; in the year to August 2013, this had risen to 30 per cent."
In all age groups except over 65s, the proportion of the population who drive has dropped over the past 10 years.
Nationwide there are now three million drivers, an increase of almost 400,000 over the past decade, but the overall proportion of drivers in the population has declined slightly to 84.3 per cent.
The youngest and oldest drivers cover the least distance on the roads, with drivers under 20 covering an average of 8100km a year, and drivers 70 and over travelling 9600km a year on average.
Those aged between 40 and 44 average 19,100km a year.
Automobile Association Motoring Affairs general manager Mike Noon said he was not surprised by the survey's findings.
An ageing population meant more senior drivers on the road, with baby boomers enjoying greater health and mobility than their parents, he said.
Senior drivers were not risk takers, and moderated their driving to suit their abilities.
They would typically refrain from driving at night, at rush hour or in large cities if they did not feel confident. "They are more vulnerable so if they are involved in a crash they are more likely to be injured simply because of fragility."
There had also been an international decrease in young people getting driver licences.
But New Zealand's irregular provincial public transport system made driving "pretty much essential" for mobility and employment, he said.
Drivers must renew their licence at 75 and 80, and then every subsequent two years they must present a medical certificate each time. A doctor can also recommend they sit a 30-minute safety test. Information for older drivers is available at www.nzta.govt.nz.
The survey questioned more than 10,000 New Zealanders in the year to August 2013.
Additional reporting Heather McCracken/APNZ
For more articles from this region, go to Wairarapa Times-Age