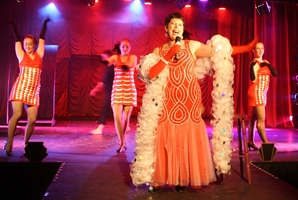 When I got home from my viewing of MATS' Encore: Broadway to Burlesque, my mini-review for my husband was, "it was like Chicago and Moulin Rouge had a baby".
As a devotee of both movies, I was impressed.
Encore, compiled by MATS president Sharon Stevens-Cottle, is a cabaret-style show, paying tribute to musical theatre, 60s and 70s pop, old-style dinner theatre, Frank Sinatra and, of course, burlesque. An odd-sounding mix, and yet, it worked perfectly. There were high kicks and high-heels, Charlestons and corsets, top hats and tutus, sequins and shimmies - and I was entertained from start to finish.
As a lover of costumery and couture, I must begin by tipping my hat to Mrs Stevens-Cottle and her wardrobe crew.
The costumes were ostentatious, covered with glitter and baubles, skimpy at times, and stunning. In their blood-red elbow-length gloves, feather fascinators, frilly skirts paired with lace-up stockings, spangly, skin-tight shift dresses and belly dance-style coin belts, the ladies on stage were a treat for the eyes.
And the men in their top hats, tails and multicolour waistcoats didn't look too shabby either.
The dance numbers were great fun, and drew on a multitude of different styles: Vegas chorus lines, disco, chair dancing, Bob Fosse-inspired jazz, burlesque fan dance, and even a tap solo from young talent Chris Wagg.
Mrs Stevens-Cottle's choreography was slick and sharp, and the burlesque segment was alluring without being inappropriate. As for the soloists, the Times-Age's own Bex Johnson shone as MC for the evening, with her sultry sashaying, glittery gowns and powerful Broadway belt.
Jude Card's Bassey-esque voice lent itself perfectly to her big numbers, Big Spender and When You're Good To Mama (from Chicago). Siobhan Connor, not dissimilar to Kate Bush in a feather headdress and black fur coat, was a crowd favourite with her smoky vocals on Le Jazz Hot from Victor/Victoria.
The male soloists, Danny Clenott, Jack Robinson, James Riley and Trevor von Keisenberg, were suave in pulling off the Sinatra numbers.
The younger cast members could do with more vocal power in the chorus numbers - some of those golden oldies needed to be louder. I also noticed the female performers were much more confident with their dance than the men, who seemed awkward at times, though they improved markedly in the second half.
That said, Encore was, in the words of Tyra Banks, "fiercely fabulous". Plus, it was good to see a range of ages and body types involved. The cabaret is not just for skinny young things.
For more articles from this region, go to Wairarapa Times-Age