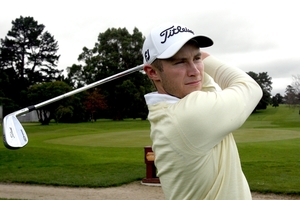 Masterton golf professional Ben Campbell is after the card which will allow him to compete regularly on the Professional Golf Association tour in the US.
And while he readily concedes that is a big ask in an environment where winning four-round scores, even in minor tournaments, are often around the 20-under mark he is confident he can meet that challenge.
Speaking from Houston in Texas where he is based, Campbell told the Times-Age he was "pretty happy" with his form in recent events on the Adams Tour held in Texas and Louisiana. His last three finishes have been 20th, 10th and 13th, not bad against high quality opposition, many of whom are, like Campbell, in the process of trying to qualify for the PGA circuit..
"The form is a lot more consistent than it was, say, two or three months ago but there's still room for improvement," Campbell said. "It's mostly little things which need to be worked on, nothing too major."
The accuracy of his driving has long been a strength of the former top-ranked amateur in New Zealand but a decision to make technical changes to his swing clearly had an adverse effect on his performance in that crucial part of the game and Campbell has now decided to return to his old ways.
"My coach at the time thought the changes would give me more length off the tees but I started struggling with the accuracy and you are in big trouble if you don't put the ball in the right places over here.
"The courses are great but if you get off the fairways, they make it hard for you. You can drop a couple of shots just like that."
Campbell has also found that joining the professional ranks has meant paying greater attention to the mental side of golf, especially so in the US where courses are set up in a fashion which requires players to "think out" each hole.
"It's all about keeping the mind on the job, club selection is so important. You have to get it right, there is no room for error there."
There was also mental pressure in the constant expectation of having to shoot low figures just to stay in contention.
"Every pro tournament you play over here someone is likely to go out and finish at 20 under and you have to condition yourself to think that you can do that yourself," Campbell said. "It's not as intimidating as it sounds, you just have to back yourself to go out there and do it."
For more articles from this region, go to Wairarapa Times-Age