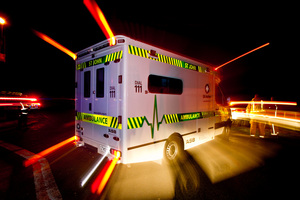 Keeping children safe in the holidays can come down to simple things such as mopping up wet spills or cleaning up loose toys, says ACC.
Kiwi parents last year lodged over 300,000 ACC claims - out of a total of 1.7 million claims in 2012 - for children aged up to 14 years of age.
Boys outdid girls, with 188,529 for boys and 145,612 for girls.
The most common injuries were soft-tissue injuries such as bruises, strains and sprains, and accounted for around 152,600 claims.
Lacerations, puncture wounds and stings were next, with 98,100 claims.
Fractures and dislocations accounted for around 36,700 claims.
ACC's general manager of insurance and prevention services, John Beaglehole, said many minor injuries happen in the context of every day, healthy play, so are simply part of childhood.
"Most kids love running and jumping around, which are all part of a healthy lifestyle.
In fact, kids need to take some risks in order to learn.
"But at the same time, there are things you can do to help prevent injuries."
Mr Beaglehole says how you go about this will depend on your kids' age.
"With preschoolers, it's basically up to parents and caregivers to manage their risks by checking their environment and through good supervision.
"As kids get older, you still need to set boundaries, but it's also about helping them start to learn to manage risk sensibly themselves. That means talking to them about risks and being a good role model."
Mr Beaglehole says these school holidays, when most kids will be spending more time at home, it's also a good time to remember simple things you can do to keep everyone - kids and adults - safer, such as:
sticking loose rugs and mats to the floor
cleaning up toys and clutter, especially in walkways
mopping up wet spills as soon as they happen
running cords from electrical appliances along the wall, rather than across the floor.
For more articles from this region, go to Wairarapa Times-Age