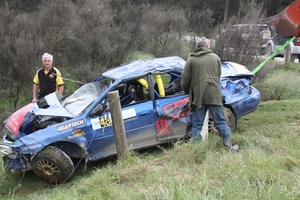 Spectators and rally crew dragged two lucky rally car competitors to safety after their car crashed during a special stage of the 2013 New Zealand Rally Championship.
Dannevirke Car Club members Peter Weir, driver, and course navigator Daniel Feck were racing special stage two of the rally on Castle Hill "trying to make up time lost on stage 1" when the race took a dramatic turn on Saturday - the pair smashed through a fence, rolled down a bank several times, landing in a paddock where smoke billowed from the engine in their seriously damaged Subaru WRX race car, which had landed upside down.
One witness said it was an impressive crash which had the potential to be more dangerous.
The pair were pulled from the car by spectators and rally safety crew unharmed.
Mr Weir told the Times-Age they were trying to make up time when they lost it and went over the bank, rolling several times before landing in a farmer's paddock.
"I think we just pushed it a bit too much."
He's crashed in the last three of the five or six Wairarapa races he has entered.
His first thoughts as they rolled down the bank "when are we going to stop".
But he knew they would be okay because of safety requirements to race cars.
"You are so safe in these cars. They are well built. It's good testament for the gear we weren't hurt ... it would have been nice to finish though."
He estimates it will cost about $20,000 to repair the race car.
Meanwhile navigator, Mr Feck said he also wished they had gone the entire course.
"It was disappointing for both of us not to finish."
As for the crash itself - just part and parcel of the job, he said.
"We were too busy to think about it. It's just part of the game ... we were just going too fast, cut the corner and tipped out.
"She rolled over and we flipped up and rolled down the bank a couple of times, ending up on our side ... I just thought 'bugger' but you don't get much time to think about what is happening. It's just part of any car sport."
The engine was smoking a bit but he wasn't afraid.
"I think a bit of oil dripped on to the turbo."
Jody Seabright, the media liaison for Rally Wairarapa, said the Dannevirke pair's crash wasn't the only accident of the day with a few drivers taking the race off-road through fences in minor incidents.
"Normally, people tend to go off on the corners, they go a little bit wide on one corner and fail to get back into the next."
Mr Seabright said it was not an uncommon occurrence.
"Anything that involves speed has an element of danger, if you speed, there is a risk. People like the adrenaline rush."
He said Wairarapa Rally was always prepared for these kind of accidents and treated them as serious incidents.
"We minimise the risk by having the appropriate safety equipment."
The car was quite badly damaged but the roll cage provided safety, said Mr Seabright.
"That's what protects the pink squishy bit in the middle, also known as the driver."
On tight and twisty roads, drivers can reach speeds around 70 to 80 km/h and on straight roads, it increased.
"Speeds of 160 to 180km/h aren't unheard of.
"It really depends on the nature of the road."
Every car has a roll cage and 6-point harness safety belts, strengthened seats, a fire extinguisher and fireproof overalls while the driver and navigator wears a crash helmet
There is also an ambulance at the start of each stage.
Rally driving had reasonably few injuries, said Mr Seabright.
The chance of an accident was about right for the number of competitors, he said.
"For a field of 66 cars, [Weir] was the only one who rolled.
"It's one of these things that to a lot of people sounds dramatic, but in the world of motor sports we have all the extra safety features."
He said 99.9 per cent of drivers walked away quite fine from such crashes.
Death in the industry was also rare, Mr Seabright said.
Geraldine's Hayden Paddon and co-driver John Kennard took home the championship with a time of 1h 12m 35.4s.
Mr Paddon has had a near miss in a 2011 - he plunged 200 metres down a cliff off a gravel road, walking away with only a broken collarbone .
Earlier this year, a 54-year-old Canterbury rally driver died after he failed to take a corner and his car hit a tree in Hanmer Forest.
It was thought to be the first competitive rally car death since 1987.
For more articles from this region, go to Wairarapa Times-Age