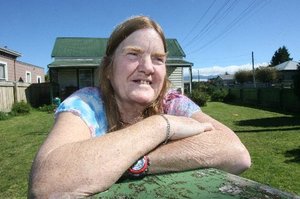 Two years ago cancer took the light out of Christmas for Christine Meyer.
For 10 years, the Lincoln Rd resident had lit up her house on the corner of Villa St with hundreds of lights and interactive displays to bring the joy and light of Christmas to local people - especially children.
But when lung cancer struck and Mrs Meyer had to go through chemotherapy, she didn't have the energy to keep going so she packed the lights up and put them in her shed.
Mrs Meyer said some of the lights had been blown about in the wind and rain, which had damaged them, while others had been stolen.
"I did it for years but it really took the stuffing out of me when I was having chemo," she said.
It all began a decade ago with only four sets of lights and developed to the point she had the entire property lit up with interactive displays and a large Santa Claus, which was stolen once and found by the community.
It was so popular Mrs Meyer said she was giving out candy canes and lollies along with soft toys to neighbourhood children who turned up to check out the props and displays.
"The kids just loved it. Their eyes just popped out of their head ... it does take a lot of work though."
After many enquiries from people, she is hoping to light up her property again this year.
However, the disability beneficiary doesn't have the money to re-light the house and she hopes the community will jump on board and help her.
"People keep asking why I can't do it. I just don't have the money."
She needs to replace many of the lights, needs batteries for interactive displays and supplies to build a wooden enclosure to keep the display out of the wind and rain.
Mrs Meyer hopes someone may have some spare wood and nails laying around to donate.
"It costs about $80 a night just for the batteries. People keep pressing them so they can see them working. They just love it ... I sacrificed a lot to do it but I loved it too. I used to have a job which used to help pay for it. Now my benefit has been cut and I can't afford food let alone pay for this. I'd like to do it again for the community. A friend is going to build a shelter but I need materials," she said.
If you can help Mrs Meyer contact her on (06) 378 6518.
For more articles from this region, go to Wairarapa Times-Age