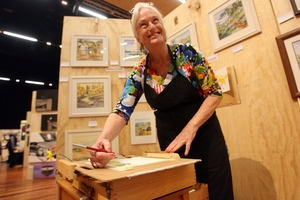 The Big Wai Art Sale featuring 1000 pieces of work and 100 artists is on this weekend.
John Gordon, one of the organisers and a trustee of Wai Art, said it took two days to put up the show.
He said the annual art sale was unique as Wai Art doesn't take a commission.
Instead the artists buy panel space to exhibit their work.
Wai Art vision is a non-profit society providing an exhibition platform for Wairarapa artists to promote and showcase their work.
Many of the artists from around the central North Island are at the show, talking about their work and demonstrating techniques.
Mr Gordon said most of the prices ranged from $50 to $500 and there were some more expensive works for sale.
Napier artist, Darryl Grant, who has only been sculpting for a year, had been using donated metal from friends to build his sculptures.
He also had photo-realism style paintings for sale.
Grant had recently made the decision to go full-time as an artist with sculpture being his "bread and butter".
"People get a buzz from it and they seem to buy it more than the paintings."
He said it was possible to make a living from art if you have the drive and passion.
"I can't see myself going back and working for someone else. I've had a lot of knock backs, you have to be motivated."
Grant had been working in a factory for 20 years as a mechanic and was injured in an accident, prompting him to take up art.
"I spent seven years recovering and I put myself through art school."
If I hadn't had the accident, I wouldn't be an artist today, he said.
Carterton artist Max Baylis, who has been painting for 20 years, had a range of figurative paintings in the sale.
A former advertiser and designer, he has always been a keen artist. His work was inspired by a range of things.
Martinborough artist Kay Goldfinch's oil paintings were inspired by a recent trip to Hanoi in Vietnam.
With no formal training, she has been painting since childhood but started painting seriously about 15 to 20 years ago.
The sale started yesterday and runs till Sunday 4pm at the Carterton Events Centre.
For more articles from this region, go to Wairarapa Times-Age