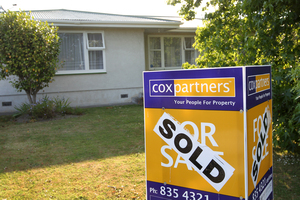 Forcing house hunters to save 20 per cent deposits for a home loan will make property ownership "almost unrealistic" for Wairarapa first-time buyers, a local property adviser warns.
Wairarapa Home Loans senior consultant Matthew Spicer said only a small number of home buyers could come close to saving that amount. "It would definitely be single figures."
As mortgage lending restrictions loom, first home buyers have only a few weeks left before the chances of securing a home loan with less than 20 per cent deposit are more than halved.
Under the new Reserve Bank rules, the combined dollar amount of loans with deposits below 20 per cent will be limited to 10 per cent of a bank's new lending. The moves are designed to cool the property market and reduce the risk of a housing meltdown.
But as first home buyers rush to seek pre-approval for low deposit loans before the October 1 deadline, experts fear buyers could forgo due diligence and make hasty, ill-advised decisions.
Last month, the median house price for Wairarapa was $257,500, according to Real Estate Institute of New Zealand (REINZ) figures. Based on that figure, first home buyers in Wairarapa would need a deposit of at least $51,500 under the new lending restrictions.
The national median house price was $385,000, meaning a minimum deposit of at least $77,000 would be needed.
Mr Spicer said he had been unusually busy in the winter months, with first home buyers scrambling to get into the property market.
"Fortunately, I've been able to get the majority of those across the line and people have got into that new house before the new policy comes in."
With many buyers seeking family financial assistance, Mr Spicer said it put parents with two or three grown children in a tight spot.
"It's difficult asking them to put about $120,000 on the line."
He encouraged parents to seek independent legal advice before signing on to help their children buy a house.
REINZ is cautioning first home buyers against rushing to purchase a property that might not suit their needs.
"It would be really unfortunate if people felt that they had to prioritise timing over prudence," said chief executive Helen O'Sullivan.
"I would still counsel people [that] it's better to miss out ... than get yourself into a pickle.
"It's a real issue in the market at the moment.
"The reality is, if you're a vendor and you've got a property to sell, purchasers are lining up to be the best dressed and that does sometimes mean it's a bit of a race."
Ms O'Sullivan said there were indications of increased activity last month by people looking to buy their first home.
A big concern for the Reserve Bank would be whether first home buyers sought out non-bank lenders, which were not subject to the same lending restrictions.
"That potentially pushes risky lending into an unsupervised, unmonitored portion of the market."
HSBC economists Paul Bloxham and Adam Richardson said "a booming housing market" along with other factors would force the Reserve Bank to lift interest rates, possibly by the end of the year. APNZ/APN News & Media
For more articles from this region, go to Wairarapa Times-Age