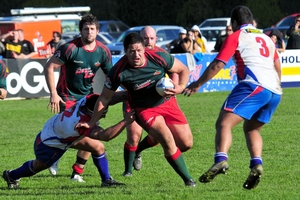 Three players who made a decent impact off the reserves bench in the 20-18 win over North Otago last weekend have been included in the starting line-up for Trust House Wairarapa-Bush's Heartland championship rugby match with West Coast tomorrow.
Hooker Jamie Hunt, prop Jonathon Fuimaono and midfield back Tapaga Isaac are the trio in question but head coach Mark Rutene is at pains to emphasise it should not be taken as a reflection on the form of those they replace, Richard Puddy, Campbell Lawrence and Byron Karaitiana. "These were very close calls which could have gone either way," Rutene said. "Nobody has been dropped because they are not playing well, it's more a matter of guys coming off the bench and making a big enough impact to deserve a start."
Hunt and Fuimaono are both front rowers whose mobility is one of their greatest attributes. They are powerful runners with ball in hand, particularly Fuimaono whose bulk makes him him a hard man to stop when operating under a full head of steam.
And that can be said too of his fellow prop Finnbarr Kerr-Newell, who would have been a strong contender for any player of the match award in his last couple of appearances.
Kerr-Newell is very much in the mould of last year's skipper Kurt Simmonds in that apart from doing all the usual propping duties well he is also a sturdy defender, especially around the fringes of the rucks and mauls.
No area of the Wairarapa-Bush forward effort will attract more interest however than the lineouts where their efficiency has been somewhat lacking in their last couple of games.
West Coast are reputed to be well equipped in this department and it will be interesting to see how Wairarapa-Bush's specialist jumpers, Clark Butcher, and Lachie McFadzean, respond to their challenge. It is comforting to know, of course, that if they struggle then James Goodger and Nathan Iro provide other useful options for the home team.
The speed and aggressiveness of Goodger, who has been playing outstandingly well, and captain Johan Van Vliet seems certain to make Wairarapa-Bush competitive in the battle for loose ball but they will need to be at their best defensively as West Coast No 8 Suamalie Tuiletuguga is one of their main attacking weapons, especially at scrum time. It will be interesting to compare his contribution with that of his Wairarapa-Bush opposite Iro who is a similar type of player.
The Wairarapa-Bush rearguard were not as influential against North Otago as they would have liked but that was due as much to the elements as anything else. With West Coast's strength seemingly in the physicality of their forwards it would seem obvious the more Wairarapa-Bush can utilise the attacking skills of their backs tomorrow the better their chances of victory.
It is a mark of the competition for the No 9 jersey that Zeb Aporo will start at halfback with Inia Katia on the bench, a situation which means that the in-form Joseph Sio misses out altogether. Glen Walters will be at first-five and Isaac, who was back to something like his best against North Otago, joins Titapu Pairama-Lewington in midfield. The onus will be on them to provide the initial impetus from which wings Nathan Hunt and Cameron Hayton and fullback Nick Olson can prosper.
Tomorrow's match kicks off at 1pm because of West Coast needing to depart Masterton earlier than usual due to flight times.
For more articles from this region, go to Wairarapa Times-Age