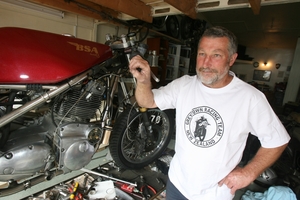 Ace Greytown motorcycle racer Doug Fairbrother has crashed out of contention in his fifth competitive bid at the Isle of Man.
Fairbrother, who earlier this month travelled to the rebranded Isle of Man Festival of Motorcycling, had in the Formula Classic TT qualifying round last Wednesday (UK time) posted the seventh fastest lap time that day of 27 minutes 7 seconds after completing a single circuit.
Fairbrother reached a top speed of 83.45mph (134.3km/h) on his 1971 BSA Rocket and by Saturday, had been the ninth fastest qualifier overall out of a starting grid of 11 racers.
Reports soon afterward reached home that Fairbrother, who was celebrating his 62nd birthday this month, had clipped a hay bale and crashed, breaking a collarbone, after being "shunted from behind" during a practice round.
A small support crew from the Greytown Racing Team had travelled with Fairbrother and the Kiwi contingent were crestfallen in the wake of the crash and injury.
Already this year, in his buildup to the event, Fairbrother had raced at the 2013 Sound of Thunder meet at the Powerbuilt Raceway in Christchurch, in the Paeroa Battle of the Streets, at the Hampton Downs Motorsport Park near Hamilton, in the Transtasman Challenge teams event, and at the Barry Sheene Memorial Festival of Speed in Sydney.
During his career, Fairbrother had raced four times at the Isle of Man TT, with three completions, and had competed at various events in Europe and around the UK.
For more articles from this region, go to Wairarapa Times-Age