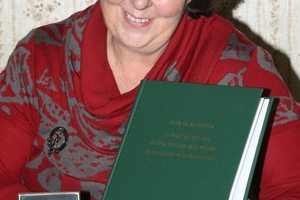 Chanel College head of English Claire Hills has been awarded a PhD for her doctoral thesis about communities fighting school closures and mergers.
Mrs Hills, who also is Chanel College principal's nominee, wrote the thesis titled Close or be closed: To what extent can school closures and mergers be contested and negotiated, after earlier penning a masterate thesis titled The Amalgamation of Secondary Schools.
Her late husband Peter Hills had been first to encourage the mother of eight toward doctoral studies and the consequent five years of work to compile the 250-page thesis, she said.
The masterate paper had been initially sparked through her personal experience as a teacher and parent during the amalgamation of St Joseph's College for Boys and St Bride's College for Girls, which resulted in the formation of Chanel College in 1978.
"My husband Peter suggested that I do a doctorate. We were over in Palmerston North and the graduation parade was powering down Broadway.
He said to me 'I'd like to see you in one of those' and he pointed to a doctoral gown.
"I had just completed my masterate and needed time to recover and smell the roses. But after Peter died, I found I needed to explore new pathways in my life and his PhD idea seemed worthy as my personal Mt Everest."
Mrs Hills said the PhD thesis was constructed using a bricolage methodology, which allowed "a multi-faceted approach to a complex subject".
An example of that academic liberty is the significant use in the thesis of material gleaned from the media.
There is a separate section devoted to media references, she said, with four of 10 pages listing Wairarapa Times-Age articles, editorials, press releases and letters to the editor that focus on school closures and mergers in the region.
The late editor of the Wairarapa Times-Age, Dave Saunders, had given Mrs Hills use of the newspaper archives and articles quoted from the newspaper date from 1987 onward.
Mrs Hills first started teaching at Sacred Heart College in Island Bay in 1966 after completing her early years of education at Central School, which was closed, and Wairarapa College in Masterton.
One of her daughters had since taken up teaching at a primary school in Wellington, she said, and another daughter was involved in early childhood education in Petone.
Mr and Mrs Hills returned to Masterton after the birth of their first child and she started teaching part-time while raising her family.
It was over the following years the seed was planted for her later master and doctoral studies on school closures and mergers.
"It was because I experienced the pain it causes communities up close and personally, and at the stage that St Joseph's and St Bride's merged, it caused a lot of pain within the Catholic community in the town."
She said her doctorate drew heavily from three case studies including the 2003 Masterton District Review that led to the closure and merger of several schools, the 2008 Makoura College closure crisis and community protest - that kept the school open - and the 2009 Bush District Community-initiated Education Plan.
"I think the Masterton community was too polite and restrained in 2003 but by the time the Makoura College closure crisis came along, we were more politicised, we had to fight harder and faster in a very restrictive time frame, and students were involved.
"The following year when the Bush district review came up, even primary school children were involved in the protest and Anglican vicars were leading protest marches.
"They came out the other side and kept all their schools going."
Mrs Hills said there had been international interest in her doctoral thesis and a copy had been sent on request to Mai Chen, a prominent New Zealand constitutional lawyer, who was involved with a current school closure case.
"Not everyone will agree with it but I hope some of the findings in my thesis will be considered by the Ministry of Education in future cases of prospective closures and mergers," she said.
For more articles from this region, go to Wairarapa Times-Age