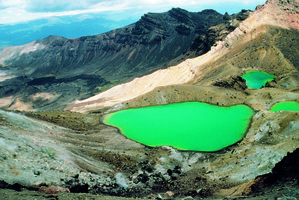 Options to re-open the full Tongariro Alpine Crossing for next summer are being discussed by government departments and local tourism organisations.
Conservation Minister Nick Smith, GNS Science, DOC staff, iwi, Taupo MP Louise Upston and representatives of the local tourism industry met last weekend to come up with a plan to re-open the crossing.
"The Tongariro Alpine Crossing is New Zealand's most popular Great Walk, attracting more than 70,000 trampers and bringing an economic benefit to the Taupo region of more than $100 million each year.
"We need to explore all the options on how it might be possible to re-open the full crossing for the next season while responsibly managing public safety," Dr Smith said.
Mt Tongariro erupted last August and again in November resulting in extensive damage to the Ketetahi Hut and sections of the track.
It was partly opened in December, but an exclusion area around the Te Maari crater means trampers cannot complete the crossing and need to do a return trip.
"The re-opening of the full track is a difficult decision because there is always some risk in an active volcanic area and a 100 per cent safety guarantee has never and will never be possible."
Dr Smith said options such as early warning systems or re-routing or developing new sections of track away from the high risk area were also being discussed.
"There are also practical problems at the Mangatepopo end of the crossing ... I am exploring with the Department what extra facilities may be needed in respect of toilets, shelters and car parks to better accommodate the change in visitors' use," he said.
- The Taupo Weekender