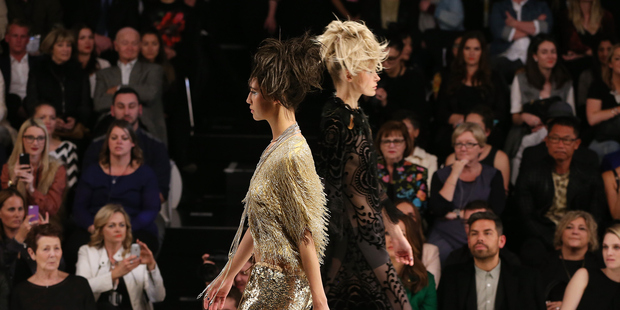 Who
New Zealand's queen of colourful maximalism Trelise Cooper showing under five giant globe lanterns on the main runway to the biggest, most dressed-up crowd of Fashion Week day one. (Followed by a re-run to a second invite-only crowd an hour later).

What
Not one, but two collections.
Cooper: First up, the designer's younger range had an eclectic boho vibe. Think free-spirited, jet-set gypsies in floppy felt hats, clad in crochet and Aran knits over earthy ethnic and vintage floral prints. Throw in some tassles, silk devore kimonos worn as coats, a bit of beading and brocade, vintage-look fake fur and some gold feathering. Cooper cited music festivals as an influence, roaming from Coachella to Ibiza, with a detour to Morocco and its mirror glass thrown in. It was hard to miss the early take on American mid-west prairie girl after the show opened with a model in a Native American-style feathered head-dress. Our grab-bag global travellers finally segued into urban attire, with the last section of the show featuring slimmer, darker, more pared down pieces. But not pared back. The Cooper take on the sports luxe look included a bold tropical leaf print trackie in navy and green with stripe knit collar and cuffs.
Pinstripe suiting came with cropped pants and long-tail shirts.
Trelise Cooper: The main, more couture range played with sculpted shapes and embellishment. A recurring feature was the mid-calf length skirt that has been bobbing about on overseas runways. The collection also featured some standout coats, including a cream velvet cocoon covered with holographic sequins and a black woollen one with an extended collar and panelling.
But it was a boldly digitised jumbo-sized floral print that set the mood of the show, with the signature fabric being used in a series of shapes, from form-fitting shifts to billowing skirts and frock coats. Cooper explained afterwards that the hyper-real print in deep teal and pink tones was about the "dark romance" of a winter's garden.
"It's also about blooming and the way silhouettes are blooming. I love the way the skirt is back and blooming."
More nipped in were her black leather jackets, worn black-on-black with fabric interplay and fringing and beading breaking up the trim silhouettes, at times to messy effect.
Teal brocade cigarette pants and a cropped swing jacket in gold tassle-length lurex were evening winners. The latter's fringed feel evoked the feathers seen earlier in the show on epaulettes and necklines. Black devore velvet pieces were striking in their simplicity.

See highlights from the runway: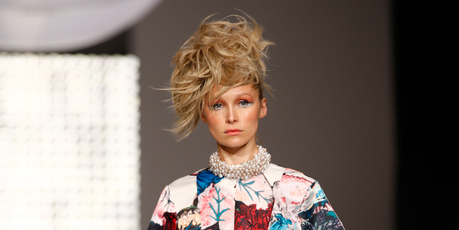 We liked
The signature digitised floral print that led out the Trelise Cooper line-up and in which the designer took her bow. Her coats, including the felt striped trench at Cooper, and velvets that looked as softly snug as a micro-fleece dressing gown.
As Trelise told China TV, her ranges have "something for everyone's personality." This unedited approach does, however, ensure she will always have detractors among the fashion set, yet many women shoppers respond to her colourful choice. Cooper's recent enthusiasm for sourcing new-tech fabrics direct from Europe has also added another dimension to what we are seeing fabric-wise in New Zealand.
Bonded velvets and giant reflective confetti-style sequins may not be to everyone's taste, but they're sure to jazz up the social pages.

Not so much ...
Ethnic overload, especially the unfortunate nod to Native American head-dress. But the artisanal approach is in tune with trends across fashion and interiors, so make like a magpie and pick out the best bits.
We're also over owls, so not so keen on that print, or the slogan Ts. Enough said when the show-closer jacket at Cooper had emblazoned on it back the words "Without Reason".

The music*
Someone was bound to play Lorde, but points for choosing her version of the old Tears for Fears song Everybody Wants to Rule the World. The dark, moody mash-up from the Hunger Games soundtrack suited the second half of the show. Less into the "wiggle your bum" pop-rap stuff heard earlier.

Beauty note
Assured and innovative makeup and hair is a feature of Trelise shows. The M.A.C and Bettjemans teams did not disappoint, working with a big cast of models on a sequin eye and hair with a feathery feel.

Sell-out piece
Why limit yourself, Trelise doesn't.
* For more show tunes check out Trelise Cooper Radio, launched this week on The Radio Network's iHeartRadio. This collaboration sees a selection of the designer's favourite mix of songs, including some featured in her previous Fashion Week shows, available free via web and mobile here.
Artists on her playlist also include Broods and Santigold. The station will be heard in Cooper's stores across the country. The iHeartRadio concept allows users to create their own stations and in less than a year has attracted more than 200,000 registered user.


See other runway highlights from day 1 of fashion week here: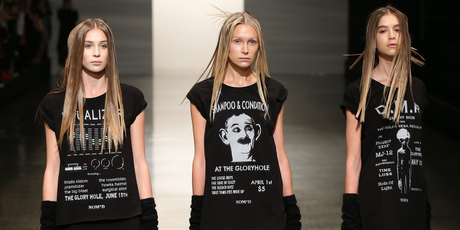 - Read more show reports from day 1 of NZ Fashion Week here.

- VIVA