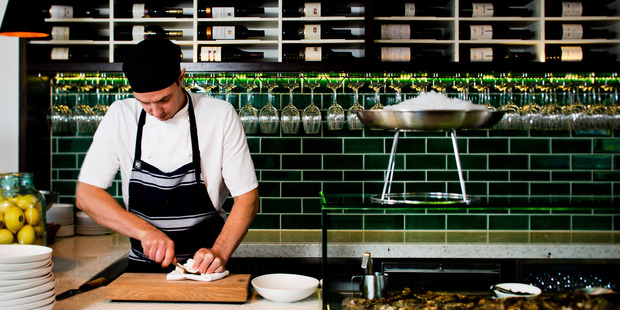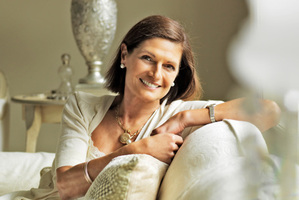 Viva columnist Michal McKay lists a Sunday morning swim as one of her favourite parts of the weekend: "It's my therapy and a great sanity stabiliser!". Previously editor of Vogue Singapore, and fashion director of Vogue New Zealand in the 60s - McKay now runs her own creative consultancy company, and spends her spare time enjoying Auckland's dining scene, art galleries and nights out at the ballet. Look for McKay's Sophisticate column in next week's special spring issue of Viva.
Drinking... A favourite is getting together with friends on Friday night wind-down at either The Local or Banque in Remuera, both within walking distance of my home. A glass of Nautilus anything will work for me - but especially their chardonnay and pinot gris - nectar! If being driven, a get-together at O'Connell St Bistro is very enticing - amazing wine list too.
Otherwise there is the bar at Hotel DeBrett - eclectic decor with real charm.


Evenings... I especially like a Saturday opening night with the Auckland Theatre Company - their track record is pretty outstanding in my book and also provides a chance see a lot of friends.


Dining... An old favourite is Tribeca - warmly welcoming and tables sufficiently spaced for good conversation plus fabulously presented food. Sean Connelly's The Grill can't be beaten for superb steak and style plus. Special treats are Meredith's or The Grove - both sensational taste teasers with a lovely intimacy. Again hard to define a single dish because they change and the food at either is sensational. Non Solo Pizza too is so good specially if you love things Italian and a buzzy atmosphere.
I have just discovered Cazador in Dominion Rd - what a wonderful gathering spot and with such a history. I am very much looking forward to trying Fish at the Hilton and FishSmith run by the very talented Scott Brown. Anything in the sushi or sashimi area will persuade me.


Brunching... Ortolana is naturally a favourite; in fact the Britomart area features high on my list as pretty irresistible for both food and shopping. I also love Bambina in Newmarket and Federal Deli is a must as is the whole of City Works with Best Ugly Bagels the prime attraction. Their cream cheese from Zany Zeus is sheer ambrosia! And I love the Florentine Tearoom in Epsom.


Discovering... Have you seen Indie Home in Newmarket? Utter heaven and absolutely my sort of shop. Love the decor, the merchandise and the displays - could live there happily. Cool Food at 20 Normanby Rd is Simon Hope's new gig with possibly the best pies in Auckland. Tip: try the chicken pie.


Anticipating... Well, of course the new season of Allegro with the RNZB, which opened in Auckland is still going elsewhere in the country - the Balanchine is not to be missed. Otherwise getting on a plane (though I detest packing) is always alluring.


Shopping... I spend my time trying to avoid overkill on the credit card - but I can be very easily persuaded at Scotties which, in my mind, is the epitome of style. And always has been since Marilyn Sainty started it - I used to shop there even when I lived in New York; which pretty well sums it up. Unlike most of my friends I actually enjoy going to the supermarket - 277 is my favourite (I know - sad isn't it??) But to prove I am not a complete heathen, I'll go to Zarbo at the drop of a hat to pick up their delicacies - of which there are many. But also can be seen at Farro a lot. Similarly Sabato.