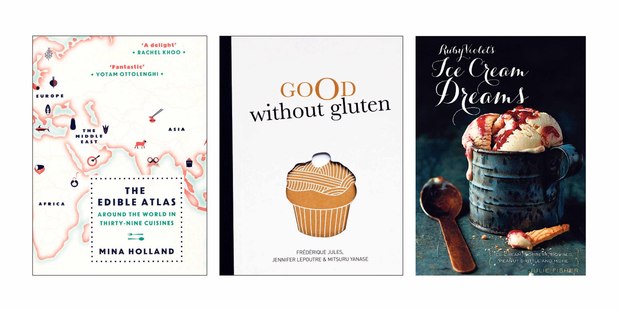 THE EDIBLE ATLAS by Mina Holland
De-mystifying the ingredients, flavours and techniques of dishes across the world, author Mina Holland takes her reader on a world tour of 39 cuisines, weaving culture, history, recipes, larder lists and anecdotes from some of the world's most seasoned food experts. The travel book for the food-obsessed. $39.99, Canongate.


GOOD WITHOUT GLUTEN by Frederique Jules, Jennifer Lepoutre, Mitsuru Yanase
The chefs from Parisian restaurant and grocery store Noglu are renowned for creating delicious, gluten-free food with all the style and finesse of master French patissiers. The result is Good Without Gluten, a bundle of more than 65 delicious gluten-free recipes. Think chocolate coconut roughs and sage gnocchi. $36.99, Murdoch Books.


RUBY VIOLET'S ICE CREAM DREAMS by Julie Fisher
Far from the sloppy, partially crystallised ice creams you may have botched in the past, Julie Fisher makes scoops that blow the standard vanilla-chocolate offerings into the sink. Filled with more than 50 inspiring recipes ranging from basic to complex, this book is what you need to master the art of ice cream-making. Perfect for the sophisticated sweet tooth. $39.99, Random House.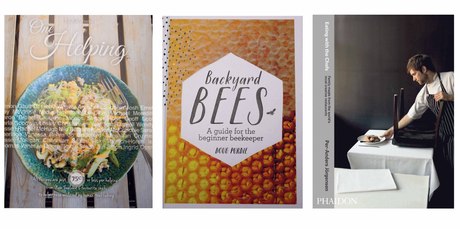 ONE HELPING by Tear Fund
With the talents of some of New Zealand's top chefs comes One Helping from Tear Fund, which aims to raise funds for those enslaved by human trafficking. It ties in with Live Below the Line, a global challenge to feed yourself with less than $2.25 a day. Simon Gault, Dr Libby Weaver, Annabel Langbein, Julie Le Clerc and Ray McVinnie are just some of the names who have given recipes to the cookbook, with each meal costing 75c or less to make. $29.99 from tearfund.org.nz.


BACKYARD BEES by Doug Purdie
A self-professed "beevangelist", Doug Purdie's Backyard Bees is somewhat of a beekeeping bible, profiling all the elements of keeping the fascinating creatures. Part handbook, part cookbook, you'll find everything from musings on how best to handle disgruntled neighbours to profiles on beekeepers in Australasia, and a raft of honey-centric recipes to sweeten the deal. $39.99, Murdoch Books.


EATING WITH THE CHEFS: Family Meals From the World's Most Creative Restaurants by Per-Anders Jorgensen.
What do the people who make the world's most acclaimed meals sit down to eat before service? We find out with photographer Per-Ander Jorgensen, founder of cult food magazine Fool. Jorgensen dives into the kitchens of the world's most glittering restaurants, drawing attention to the "family meal", a staff lunch or dinner, collating recipes of simple meals that are made to fuel a hard day or night's work. From Alice Waters' Chez Panisse restaurant to Rene Redzepi's Noma, Eating With Chefs is an intimate look into the workings of world-class kitchens. $80, Penguin Books.


- VIVA