It was a relaxed wedding in Kerikeri, coupled with a traditional Hindu ceremony at the Winter Gardens for Samantha and Kishan.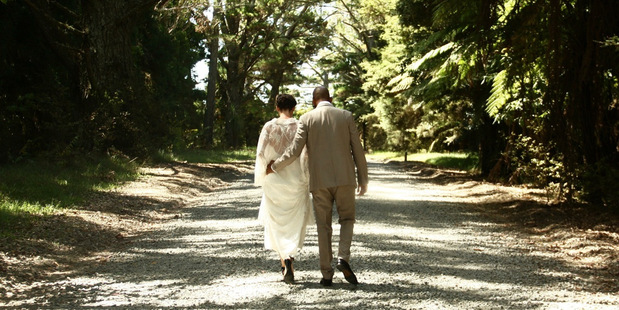 THE WEDDING
We didn't want too much of a fuss, just an amazing day with all our loved ones around. We had a traditional Hindu wedding at the Winter Gardens in the Domain the weekend before, so the Kerikeri wedding was to get everyone out of town for a relaxed weekend away.
THE PROPOSAL
Was nothing like what Kishan had planned. I was being very difficult that day. But it worked out to be perfect - sitting in the car wearing track pants and eating icecream. And then once we got home, all our family arrived with champagne.
PRE-WEDDING EVENTS
Not long after Kishan proposed we had an engagement party at La Zeppa, which was just another excuse for everyone to get together. A few months before the wedding I went to Omaha, stayed on the beach, swam non-stop and ate ridiculous amounts of good food with all the best ladies, while Kishan stayed in the city celebrating with lawn bowls, beers and KFC.
DRESS AND SUIT
My incredibly clever friend, Sarah Chapman, made my dress. It turned out perfect. Two days before, we thought maybe we needed something else to finish it off so I made a lace robe to wear over the top. My heels were See by Chloe and found online for 70 per cent off (but they were replaced with Chuck Taylors right after the first dance). I wore no jewellery besides my rings and simple silver studs. Kishan's suit was from Topman and it was teamed with his best man's belt and tie as he left his in Auckland and didn't realise until the night before.
BRIDESMAIDS & GROOMSMEN
They got to wear whatever they wanted; we wanted everyone to just feel like themselves.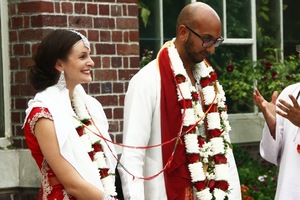 RINGS
Found while shopping in Ponsonby one day after a game of laser strike, not even looking for rings. I tried one on in Wunderkammer and didn't want to take it off. I got it and then we went back the next day and got one for Kishan, too.
HAIR & MAKEUP
This was done by more of my talented friends. Jaime Randell did my hair and Abigail McEwan did my makeup. I wanted people around me all day that I felt comfortable with and these girls were amazing.
BEAUTY PREP
I didn't do anything different, but my very lovely work surprised me with a massage at East Day Spa in the week leading up to it.
LOCATION & RECEPTION
We had the wedding in Waipapa (just out of Kerikeri) at a farm my cousin Alicia currently lives on. We were just after a big open space. The ceremony itself took place next to a fence looking out to the water, with all the guests standing casually around. We then had two 20m tables running through one of the paddocks for dinner and the concrete barn floor made for perfect dancing.
TABLE SETTINGS
A knife, fork and sprig of rosemary were twine tied, and that sat on top of the printed menu and dinner plate. Besides bottles of sparkling water and champagne, we left the tables empty down the centre as all food was served banquet style so no one had to leave their seats.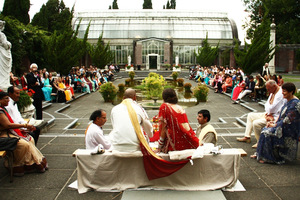 FLOWERS
We went into town the day before and bought all the white flowers we could find, added them to what we had picked from the side of the road and filled the barn. I carried a single tuberose stem down the aisle which, after Mum trying to grow for her whole life, flowered that week. Both Mum and Nana had carried tuberoses at their weddings so that was pretty special.
CAKE
The groom made this. My all-time favourite: carrot cake, three tiers with cream cheese icing.
WEDDING FAVOURS
We gave mixed CDs with all the key songs from the day.
MUSIC/ENTERTAINMENT
Kishan's cousins Vijay and Raj are DJs so we were incredibly lucky to have them keeping the dance floor going into the early hours. The best man Clinton Randell was also the MC and he had us all crying with laughter.
PHOTOGRAPHER
A lovely and clever friend, Lorna Denholm.
SPECIAL MOMENT
A surprise customised rap to The Fresh Prince of Bel Air by my cousin Jessica and sister Jenna - amazing.
HONEYMOON
We are counting down and flying out in September for two weeks in Japan followed by two weeks in NYC.
TOP TIP FOR BRIDES TO BE
Hypnotherapy works a treat.


* For more inspiring weddings, read Sue and Deborah's story here, and see Jade & Ben's festivities here. Find your Viva Weddings Special Edition in today's Herald.


- VIVA