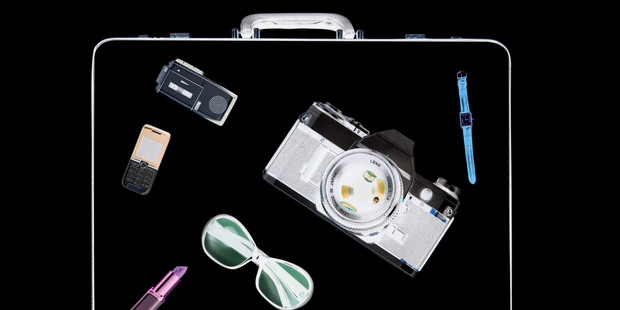 As I was flying out of Ireland last Tuesday, they confiscated my perfume.
It was a salutary experience. I'd forgotten not only the maximum capacity for on-board gels, creams and liquids, (it's 100mls, friends, don't get caught napping), but also the capacity that stupid, petty rules have to outrage you. I understand the need for increased security in this era of shoe bombers and lunatics hitting passenger planes with missiles, but I would like to know what threat to aviation safety exactly, was posed by my 120ml bottle of cedar-wood scented toilet-water?
Critics say the war on terror is merely cosmetic, but I start to take it personally when it's a war on my actual cosmetics. "Too big to go on with you" was all the boy at the scanner would say. I thought about pointing out the irony of my being able to step over a few paces to the duty-free shop and buy a two-litre bottle of vodka that I could board the plane with and hug the whole way back to France, if I wanted to.
Then I thought about how short life is and shut up about it.
I was ropeable though. Not just because it's a dumb rule, and it was a full bottle, and I'd only just bought it two weeks ago, from the big Pharmacie de la Loge in Perpignan that is my new favourite place in the whole world, ever. (There is so much to tell you about French pharmacies, it's a whole other column. For now, know that French women are not messing about when it comes to skincare. Or indeed, vaginal deodorants.)
Not just for those very good reasons, but also because perfume is a critical piece of my cosmetic armoury. I need to wear it every day. I don't like how I smell without it.
You'd think that is a disclosure that would hurt in the telling, but it isn't. At the age of 35-and-a-bit, I am fine with admitting that this too, too solid flesh smells better with a spritz of Youth Dew. Well, not Youth Dew. I stopped wearing it after my Auntie Nancy was buried with a bottle in her coffin. That's brand loyalty I suppose, but not an association I personally could get over. If not Youth Dew though, then certainly Fracas, Opium, Narciso Rodriguez or anything by Comme (except No.2, which is lovely on some people, but on me smells like furniture polish.)
In general though, perfume is nothing short of a godsend. Three and a half decades of long hot summers, various all-nighters and regular round-the-world plane-rides later, and I can say this categorically: I smell better with perfume than without it. So do you.
I know this because I go running. Anyone who thinks the human race should remain unscented should jog through a crowd of freshly sprayed school-girls and then run on past someone who got up too late to have a shower. Or worse still, a smoker.
One of those things is a far better sensory experience than the other. Left to their own devices, people smell. It's a bummer, but it's no wonder that our bodies reek sometimes, given all the things we habitually do to them, in them, with them.
We need perfume because we live in a world of sweat and fish and curry. Being able to cloud ourselves in scent is one of those little joys that makes life so much better. That's why nothing sums up the misery of airports better than having your perfume taken off you.