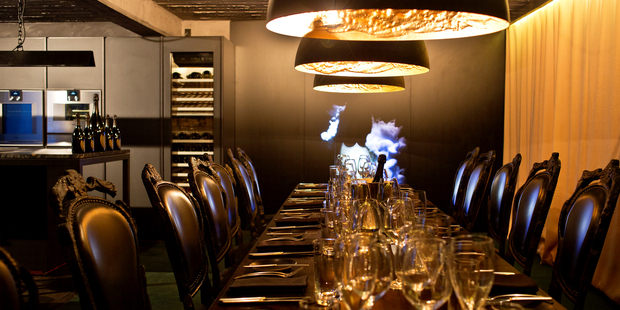 Private dining steps up today with the opening of Clooney's Dom Perignon Room, pairing a chef's table with a beautiful private room. Guests can brief chef Des Harris on their ideal menu, which he will create in the custom-fitted open kitchen, while rare Dom Perignon vintages can be meal-matched by top sommelier Gary Olasz.
"What excites us most is the concept of curation: the forging of relationships through food and wine. The Dom Perignon Room allows us to showcase the Clooney experience on a completely new level," says owner Tony Stewart. Space for 16 seated, 50 standing, or 12 for a cooking class. Bookings, ph (09) 358 1702.


GRAB A CRAB
Make a mess with bib and crackers at Orleans' Crab Shack concept, launching this Sunday. The menu includes lobster rolls, South Island clams and Alaskan king crab. Sundays and Mondays from 4pm. Bookings essential. Ph (09) 309 5854.


MENU PICKS
Sweet treats to please the kids ... and you.
• Caramellow crepes from Ponsonby Central's Crepes a Go Go - white choc, topped with home-made caramel.
• Bronuts: the new cronut? The brioche doughnut hybrid has been spotted at L'oeuf in Mt Albert and The Luscious Food Store in Te Atatu.
• The raw cheesecake from Little Bird. We can't believe it's healthy!
• Loaf's new mini brownie bites - just be careful how many you eat!


EASY MEALS
Great news for fans of Jess' Underground Kitchen: the made-to-order meals will be available from Nosh stores as of tomorrow. The Greenlane, Mt Eden, Glen Innes and Ponsonby stores will each have 50 meals delivered every Thursday, no ordering required. Expect daily drops and exclusive family packs next.


- VIVA