Jo Burzynska discovers a banquet for the senses at a tranquil Hawkes Bay lodge.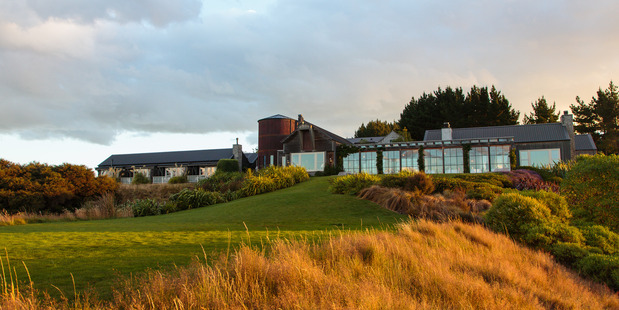 Following a dramatic cyclone down the country and an equally tempestuous couple of months, it is with considerable relief that I was deposited safely in the lobby of The Farm at Cape Kidnappers.
I was in Hawkes Bay for much-needed R&R and to experience one of the luxury lodge's highly regarded food-and-wine weekends, and no high winds or other hurdles were going to stop me.
Arriving at the end of the winding private driveway to the heart of a 2400ha farm, the stresses of daily life seemed a world away.
The wind howled around the stone buildings that make up the boutique complex, while within their sturdy walls, tranquillity reigned and a cosy snug by the fire and warming glass of local red started my unwinding process.
You could come here simply for the scenery.
The Farm and its accommodation have stunning, uninterrupted views across the rolling pastures and over cliffs out to the ocean.
Nature is a strong suit, as the grounds include one of the country's largest private conservation sanctuaries, home to about 80 kiwis, as well as a substantial and easily accessible gannet colony.
There's also the award-winning par-71 golf course. Being somewhat green in matters pertaining to golf, I was assured it was a fine - if challenging - fairway by my fellow guests, one of whom had arranged a golf tour that included The Farm's sister lodge, Kauri Cliffs in Northland.
The owners also have a third property, Matakauri, in Queenstown.
American hedge fund billionaire Julian Robertson is the man behind the lodges. He's also the owner of Martinborough winery Dry River and, until a few years ago, Hawke's Bay's Te Awa.
So it's no surprise that The Farm has a strong wine focus, which was one of the main factors drawing me there.
The Farm's resident sommelier, Paul Gardner, took a break from arranging libations for the weekend's festivities to take me on a tour of The Farm's impressive wine cellars.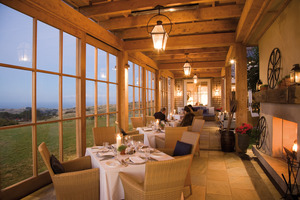 Unsurprisingly, there was a sizeable collection of Dry River vintages, as well as other top local names, such as Te Mata and Felton Road.
Although the emphasis is on New Zealand labels, there's also a small, high-end collection of flagship Australian bottles and great Burgundies too, from the likes of Domaine de la Romanee-Conti.
One of the joys of The Farm is the opportunity to have drinks or dine at several places around the premises, from the snug where I started out, to the wine cellar itself.
It's here that Gardner hosts tastings for interested guests and is on hand to help them plan trips into Hawkes Bay wine country.
This interest in wine extends to the regular wine-and-food weekend the area hosts which, on my visit there, paired celebrity chef Pete Evans of My Kitchen Rules, with Tim Turvey of the Clearview Estate winery.
Turvey was there on the first evening to present a relaxed tasting in the lounge of his wines, which included the latest vintage of his much-admired reserve chardonnay.
As the rain lashed the windows, he told us how he would normally still be harvesting around this date. However, given this year's precocious vintage, everything except a late harvest riesling was now safely fermenting in barrel.
This first informal soiree featured a small but delicious menu, created by the group's executive chef, Dale Gartland, and proved a good opportunity to mingle with fellow guests.
These included an Australian-American Singapore-based couple, who loved the area so much they were building a home here; newlyweds from Missouri, a doctor and his family from the United States, an Australian television producer and her partner, and an Indian couple en route to Samoa.
It emerged that I was the only Kiwi among this convivial and cosmopolitan bunch.
Next morning it was time for Pete Evans' cooking demonstration.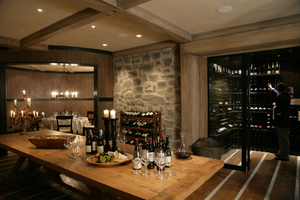 Now a zealous convert to the Paleo Diet, he expounded the benefits of this somewhat controversial regimen. I was not entirely convinced or ready to forgo grains, but I enjoyed watching him create and then sample his delicate scampi miso broth and aromatic Laotian chicken salad.
Then it was up to the spa for a massage to ease away the aches and pains from the too many hours I had spent in front of a computer screen. So I was relaxed and revived upon entering the dining room that evening for the weekend's main event, the great degustation dinner.
Given Evans' penchant for Paleo, I approached this with some trepidation.
However, after his pristine sashimi of kingfish dressed with yuzu and fresh and punchy scampi salad accompanied by avocado, preserved lemon and fermented fennel, I sat back and enjoyed the courses that followed.
Turvey complemented these with rare and special wines from Clearview's library stocks, such as the wonderfully fresh 2006 Clearview Estate reserve sauvignon blanc with the sashimi and a 2009 magnum of the reserve chardonnay with a dish of blue cod in a lime and coconut sauce.
Some multi-course meals can weigh heavily the following morning, but the next day the healthy food left me full of life.
I bounded past the indulgent Easter egg that had been left in my room, and after a pleasant breakfast overlooking the sea and the sunny, Hawkes Bay day, I set off for a clifftop stroll before checking out.
Back in the lobby, as I bid adieu to the friendly team, I felt a million dollars.
Fresh air, fine food and wine and a liberal dose of discreet luxury was just what the doctor ordered.
I vowed to return the next time I need a deliciously restful break.


FUTURE EVENTS AT THE FARM
If you're interested in sampling one of The Farm's food and wine weekends, here's what's coming up: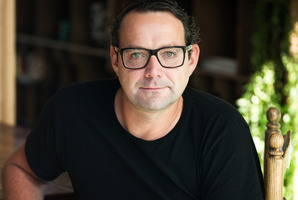 • Michael Van de Elzen with Te Mata Estate wines, July 18-20
New Zealand chef and TV personality Michael Van de Elzen is at The Farm alongside high-profile local winery Te Mata, whose wines will be presented by its CEO Nicholas Buck and paired with a degustation dinner by Van de Elzen. We asked the chef what guests can expect, and what luxury means to him.


Tell us what you have planned for the five-course degustation?
I'm very excited about cooking these dishes as many of them are my favourite from seven years at Molten. The courses will be:
• Spiced coconut little taster with shredded crispy local duck
• Local seared scallops with truffle emulsion and pickled rock melon
• Pickled local pork cannelloni with scampi salsa and cider
• Barbecued local lamb with lentil puree and red cabbage and braised lamb beignet
• Local blood orange-filled Dutch-style doughnuts with salted chocolate
You will also be giving a demonstration in the morning, what can guests expect to see?
My demo will be a very up-close personal interactive session, with loads of humour, of course.
What is the most luxurious thing to you?
The most luxurious thing to me is peace! Just time out with my wife Bee in a remote environment, and maybe a massage in between.
And the most luxurious food?
Roasted New Zealand hapuka with a brioche and scallop crust. Luxurious doesn't always have to cost the earth. Sometimes a simple barbecue chicken with handmade lime gravy enjoyed off the back of the ute on a remote sandy beach is luxury to me.
What do you love about the Hawkes Bay?
I remember about five years ago, I spent some time in Hawkes Bay judging a Restaurant of the Year competition. I would get up early in the morning and head off cycling along one of many cycle trails, stopping along the way to enjoy local food and, of course, wonderful wines. It really reminded me of being back in my family's homeland of Holland, cycling along the flat canal networks.
• Peter Gilmore with Felton Road, September 12-14
Acclaimed Australian chef Peter Gilmore, of Sydney's prestigious Quay Restaurant, prepares a five-course dinner matched with wines from Central Otago's Felton Road, introduced by its winemaker, Blair Walter.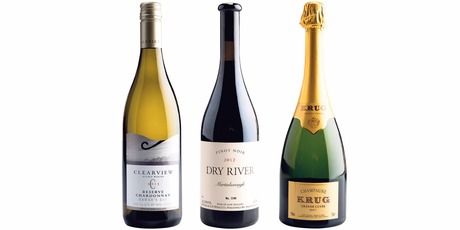 A LUXURY SELECTION
Clearview Reserve Hawke's Bay Chardonnay 2013 $39
One of the stars of Turvey's tasting of current releases was Clearview's flagship chardonnay. It's an opulent, creamy textured example from the highly promising 2013 vintage, with ripe peach fruit and spicy, nutty, toasty notes from well-managed oak tempered by a wonderfully fresh line of citrus acidity. Available at Fine Wine Delivery Company, Glengarry, Liquorland, Liquor King and clearviewestate.co.nz.
Dry River Martinborough Pinot Noir 2012 $83.50
One of the country's most iconic and long-lived pinot noirs is looking impressive, even in this more challenging vintage. Lighter than in some recent years, it's still a poised and impressive wine with tangy redcurrant and black cherry fruit overlaid with notes of spice, mineral and florals supported by fine tannins. Available at Caro's and dryriver.co.nz.
Champagne Krug Grande Cuvee Brut NV $290
This super premium Champagne thrills, with the balance it maintains between generosity and refinement. Its rich notes of bread crust, gingerbread spice, honey and hazelnut are counterposed by subtle stone and apple fruits, chalky minerality and rapier-like citrus acidity. Available at Glengarry and Caro's.


- VIVA