Auckland Restaurant Month kicks off in August with headline chef Frank Camorra of Melbourne's MoVida teaming up with Josh Emett. Nici Wickes talks to the Spaniard about creating a tapas culture down under.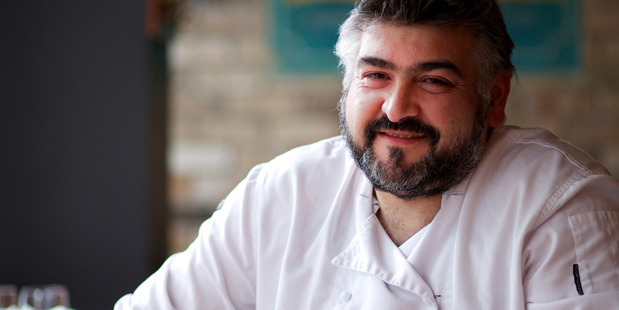 I remember the precise moment when my taste buds went wild for Spanish food and tapas suddenly made sense to me. During the 90s some cafes and restaurants had begun serving "tapas" without anyone fully grasping the concept. What this meant more often than not was being subjected to bowls of meatballs poked with toothpicks and rounds of dry bread topped with soggy chickpeas.
It was no wonder that I, and many others, struggled to understand what all the fuss was about. Then, in 2003, I found myself sitting in a small bar, off a cobbled, grungy, graffiti-filled lane, sipping on a sherry and being thrilled by the food that was causing a mini-revolution in my mind and mouth. It was a delicious revelation to me and no, I wasn't in Spain, I was in central Melbourne and the bar was called MoVida.
Like the movement that he'd named his first tapas after, chef Frank Camorra was awakening an appreciation for Spanish cuisine and delivering to Australian diners creatively brilliant cuisine from his precious birthplace.
He had hit on a magic combination of traditional dishes laced with all the ingenuity and modern techniques Spanish gastronomy was fast becoming famous for. From one small bar, down a grotty inner-city lane, a dynamic tapas culture was born that made perfect sense to anyone who ate there.
Camorra was born in Barcelona and spent the first five years of his life in his parents' hometown of Cordoba, Andalusia, before his parents migrated to Australia. As a young man he studied to become an architect but somehow along the way, he turned his back on this profession for the love of another craft altogether - cooking. "I was always going to be a bad architect, I worked in a few offices during summer breaks and realised it wasn't for me. The love of cooking and food had always been a big part of my life. I also worked in hospitality during the years of study, from a kitchen hand, to waiter, to cook, so the bug just bit me and I wanted to take it further."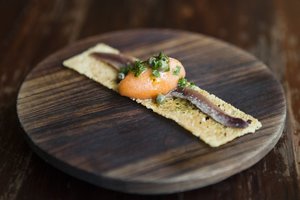 He did his training and time in some of Melbourne's most established restaurants before packing up in 2000 to travel with his partner Vanessa to Spain. From this trip on, there was no turning his back on his native cuisine. "Initially I was concerned that Australians wouldn't understand the style of dining we'd revelled in so much while in Spain, so when we came back and set up our first bar we stuck to the traditional form of entree, main, dessert. It was okay but it didn't set the world on fire."
Camorra's next move was perhaps the most pivotal in his career. He made the decision to move MoVida into Melbourne's CBD and into the decidedly down-market Hosier Lane. It pays to remember that this was before Melbourne had firmly established that laneways were cool. Hosier Lane was grungy to say the least, covered in graffiti, with few redeeming features, but now it had become home for Camorra and his crew. "It made sense to me, it felt like we could have been in a back street of Madrid - it was edgy and grungy and we felt at home."
This time they did set the world on fire and MoVida became one of the city's most loved bars and dining rooms. Since then the lane has become infamous with locals and tourists who travel to absorb the edgy ambience and, if they're lucky, to eat at MoVida.
Camorra has a way of creating food that manages to be exceptionally modern yet somehow also deeply rooted in the traditions of regional Spain. What was the dish that was a game-changer for me on that first visit? An elongated, whisper-thin crostini along which was draped an anchovy topped with a perfect quenelle of rose-coloured smoked tomato. The tomato is served as a sorbet and the sensation of the coldness comes as a complete surprise, one that is shockingly delightful.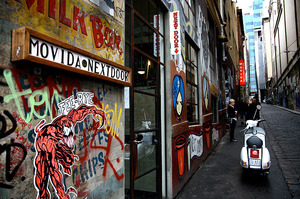 "When thinking of a new dish I always start with the season, then comes the linking a particular ingredient with a traditional dish but also often playing with new techniques and adapting to Australia. The anchovy dish is a perfect example; we start with an exceptional ingredient, take a classic but simple combination of flavours from all over the Med - anchovy, bread and tomato - then give it a twist, the smoked tomato sorbet." To this day the tapa remains on the menu (and it will be served at the Auckland event!) and though I've had this dish more times than I can remember, it still thrills me every time.
Five years after opening the original MoVida, Camorra's second venue, MoVida Next Door, opened in 2008 further down Hosier Lane. It had the same inimitable, spirited vibe that had already proven so successful with the first one and, once again, the dining public flocked to it. The awards and accolades have followed ever since and Camorra is now a veritable powerhouse in the food scene in Australia with his MoVida initiatives expanding across Melbourne and into Sydney, and the next phase, Bali, is already under way. Yes, MoVida is reaching into Asia using Bali as the gateway and by the end of this year they hope to have established a MoVida there. Oh, I can't wait.
Chefs, like Camorra, with cookbooks, TV appearances and multiple venues can sometimes lose sight of the burners. Not him. When I ask what's on the menu for his upcoming Auckland visit he beams, he enthuses, the words tumble out of him.
"The classic MoVida tapas are a must, that anchovy one you love as well as the Greek cigar with goat's cheese and quince and a black pudding, which is based on a recipe that is my dad's and I'm so proud of it. Then I want to use some New Zealand venison.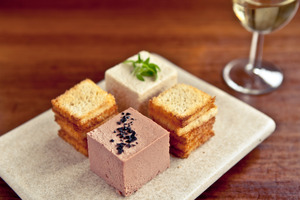 And I'll cook a Catalan seafood stew that Josh (Emett) has promised to source me the best of New Zealand seafood for! And I'll use lamb neck and breast for this traditional dish I can never go past and pair it with silverbeet and chickpeas..."
When I tell him we have some fabulous locally grown saffron, too, he's immediately on to it and asking questions about how to get some for his seafood stew.
He has a new book expected out later this year, MoVida Solera, which charts his most recent trip through Spain where he took a camera into the kitchen and cooked all of the recipes on the road with home cooks he met along the way. This will be his fifth book and it looks set to be just as exquisitely inspiring as his previous.
This is Frank Camorra, a chef whose love for Spanish food and the restaurant trade shows no sign of abating; "I only do three to four services a week now but I go up and work in Sydney once a week and then spread my time through the other restaurants. I'm always a bit devious and never tell the chefs when I'm dropping in. It's the best way to keep them on their toes." He's cheeky as well as talented.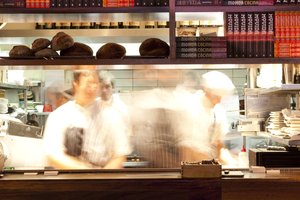 • A Taste of MoVida presented by Viva will see Frank Camorra in the kitchen with Josh Emett at Ostro as part of Auckland Restaurant Month. August 6, from 6pm at Ostro, Seafarers Building, Britomart. Tickets $220 (includes five courses and matching wines). To book go to iticket.co.nz or phone 0508iticket. For more info heartofthecity.co.nz/restaurant-month.


JOIN THE FOOD FUN
Restaurant Month in the central city is on for the month of August, with more than 100 participating restaurants offering special menus at $25, $40 or $55-plus. For all event details and the 100+ special menus, go to heartofthecity.co.nz.
• Be in with a chance to win a "$10,000 Southeast Asia Food Journey" simply by dining at a participating restaurant.
• The Restaurant Month Official Launch Party is on Wed, July 31 tickets $95
• Wine AKL at the Viaduct Events centre, August Sat 16 & Sun 17 - tickets $20pp earlybird (including five tastings, a tasting glass and a wine guide)
• Street Eats free event at Shed 10, Queens Wharf on Sat, August 23 from 10.30am
• The Chef "taste of" Dining Series is on August 6, 13, 20 & 27


- VIVA