As a confirmed fan of all things Americana, Michal McKay shoots from the hip on frontier style.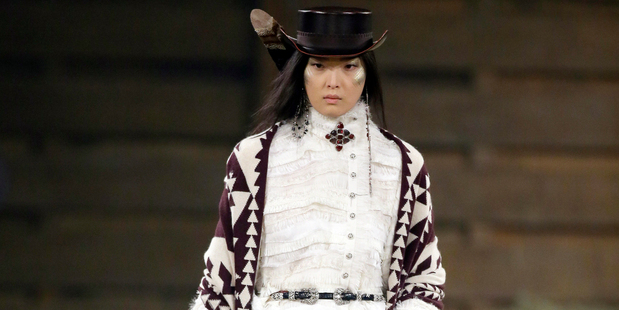 Some of us on the fashion beat are Anglophiles (followers of the outre and the unexpected), others Francophiles (with a leaning to classic style and definite attitude) or perhaps have a lurking Latino streak (straight out sexy). I've been through all those stages but must admit my inner-self leans strongly to all things Americana.
Maybe it's because of my mother kitting me out at age 10 in a pair of denim dungarees, blue short-sleeved chambray shirt and red kerchief - a distinctly cutting-edge outfit which my friends would have killed for. Whatever. I fell in love with America. And naturally as time progressed the one American designer who historically has the Wild West pegged out as his own terrain, Ralph Lauren.
When I moved to New York, frequenting the Ralph Lauren flagship store in Madison Avenue became routine. As did trips to Frye - the brilliant American Western boot makers. And after I bought an apartment on 92nd Street between Fifth and Madison, the fact that Gwyneth's parents lived opposite was completely overshadowed by discovering that Ralph and Ricky lived on my corner.
Occasionally I would glimpse him strolling down my street in typical Western attire - chicly crumpled shirt, jeans or chaps, cowboy boots - looking somewhat dishevelled in a very stylish way. Good looking was an understatement.
Over the years, my wardrobe has had its fair share of chambray shirts, embossed leather bomber jackets, prairie skirts (preferably taffeta), an inestimable amount of studs - plus a leaning towards turquoise and silver. Even the odd serape blanket coat. And a very prized pair of gold leather Frye boots complete with intricate punching detail and wooden Cuban heels.
All epitomised the West - a period of history which has left an indelible stamp on fashion both sides of the Atlantic encompassing pioneer, cowboy, Vaquero, Navajo and the mountain people. However, as Hollywood is prone to point out - out there on the prairie there were two kinds of women. Ladies and the Shady variety, each with their own unique interpretation of style.
The former (usually the homemakers) tended towards an almost Puritan-like prettiness. But those born of tougher sinew like Annie Oakley (not only known to outshoot Buffalo Bill but also reputed to have made all her own clothes) set a fashion approach all of their gun toting own: their ruthlessness hidden by a really fetching cowgirl style that could catch a man off his guard.
Nightlife introduced a far more seductive trend - here the trailblazers, outlaws and society shockers who frequented the saloons revealed a softer side. Seductive shoulders barely covered by a frill, corseted and rouged decolletage and whittled waists with a swish of multi-layered skirts which when lifted revealed a sheer stockinged leg (usually black and net), suspenders and a sexy little buttoned boot. Civil unrest could have been justified by such flagrant flare.
Not surprisingly the cowboys went wild. And still do today when confronted by such coquettishness. Which does a lot to explain the ongoing success of designer Ralph Lauren.
About six months ago, the RL Ranch was lassoed by none other than Karl Lagerfeld who rounded up the fashion set in Dallas for a Chanel rodeo.
Actually it was a tribute to that famous retailer Stanley Marcus, who at a time when Coco Chanel was going through a rough patch with the French, stuck his neck out and gave her the Neiman Marcus Award for Distinguished Service in the field of fashion. And she was back in the saddle. This time round it was Lagerfeld garnering the honours. The collection, called Back in Dallas, got its theme from - guess where?
Lone Star this was not. Rather a galaxy of luxury heralding a Western revival which we are about to see in our own streets soon with all guns a blazing.
If you're a Wild Western fan who takes no sass from anyone, here's how to lasso a few frontier looks that are totally fresh, chic, and a lot of fun.
• Mix it up - mingle a Western element with other styles.
• Shimmy into fringing, step into snakeskin boots and sling a thick leather studded belt low on the hip.
• Embroidery splashed across jeans and shirts is an instant hit (Louis Vuitton did it brilliantly) - try an embellished yoke on a denim shirt for real authenticity.
• For the minimalists - dress up a basic shirt dress with a Stetson, a bolo tie, or chunky stud boot (not all at once though!).
• A super slick slim-cut Hedi Slimane suit works well with a decorative shirt beneath. Or maybe a simple laced-up velvet corsetiere.
• Then there is always the humble bandana. Marc Jacobs gave that a reboot in his Marc collection. So I guess you can't have more of a fashion endorsement than that.


- VIVA