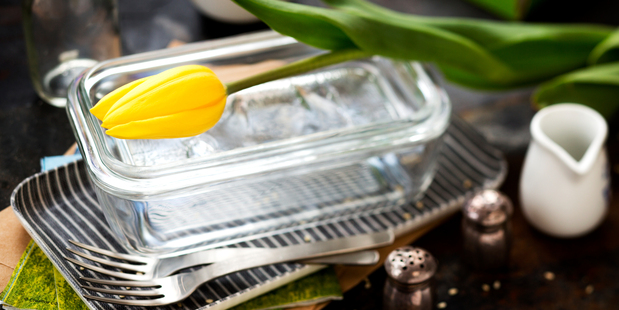 Each day in our house, as we all race out of the door, heading in various directions for work, food for the day is often way down the list of priorities. Grabbing a coffee on the way to the office and maybe a muffin "just this once" is all too common - and expensive over a month or year. And then there's lunch, often sourced from one of the many fabulous cafes in our city - how can a limp sandwich from home compete with the delicious treats they have on offer?
Well, usually they can't, but if you're serious about saving money and creating interesting work meal options (that will have your colleagues suffering from lunchbox envy), it pays to be organised. Stock up at the weekend on supplies like fresh fruit, nuts and healthy snacks, and make a batch of bircher muesli or tasty salads that will last a few days. Be sure also to make the most of the work fridge, toaster and sandwich maker and on Mondays, take in your own stash of cereals, yoghurt, bread and fillings to last you a few days.
I've learned a few easy-to-make recipes that can be thrown together in a matter of minutes in the office or on the road.
These recipes are healthy, filling, pocket-friendly, and incredibly tasty.
Roasting whatever vegetables you have in your fridge will make a wonderful salad. Here I have added a few spices, feta and a delicious dressing. I try to make this in bulk but more often than not it is picked at before it even gets to the lunchbox. This salad is even more delicious the next day, the nutty flavour from the dressing infusing with the spices. I like to eat it at room temperature rather than cold.
Fresh soft Turkish bread makes for a great sandwich base, and any of your favourite fillings will make a good lunch. Gruyere with tomato, ham, pesto and spinach, or chicken, brie and cranberry are always yum. Here I've featured one of my favourites with fennel flavoured sausage, creamy ricotta and fashionable kale. I love spicy capsicum chutney with it. I make my own, but you can use whichever you like best. There is a huge array of pickles and chutneys to choose from.
If you are anything like me, come 3.30pm you need something to munch on. These nutty balls are just the thing. They will boost your energy level enough to get you through the rest of the day and they make for a healthier alternative than a trek to the snack machine.
If you leave them in the work fridge ensure you label them - from past experience, the numbers dwindle rapidly when your back is turned.


Recipes:
• Winter roast vegetables with almond dressing
• Turkish bread with spicy sausage, ricotta and kale

- VIVA