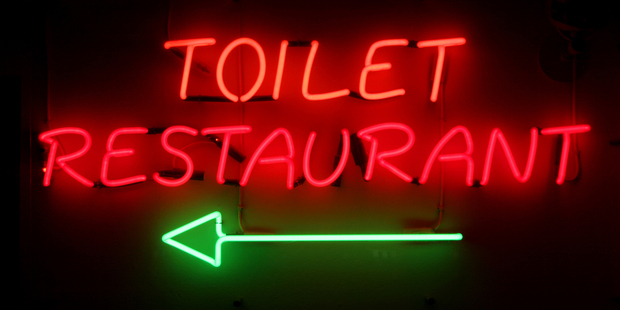 A stack of neatly rolled towels, a flickering scented candle, an elegant vase holding a single bloom, a heavenly perfume emanating from a designer diffuser, a glass bottle of hand wash that costs the same as the main course, buttons that you just have to wave at and they know what to do.
Is it just me or does everyone have a fascination with restaurant toilets? Whenever I'm out for dinner I have an irresistible urge to excuse myself from the table to check out the facilities out of pure curiosity rather than necessity you understand.
Architects and designers are spending as much creativity, time and money on "the smallest room in the house" and restaurateurs obviously support the notion that fancy loos are an imperative part of the dining out experience. But be warned, the high standards here can set you up for huge disappointment if you travel overseas. Even in the most upmarket of restaurants in Europe, a pleasant restroom experience is not a guarantee. I was shocked a few years back whilst travelling in France - toilet seats seemed optional and I quickly figured out that low-slung sandals didn't put enough distance between me and the oft-flooded floor, if you know what I mean.
Perhaps this is main reason French woman like their heels so much?
One of my favourite restaurant loos lies behind a concealed tiled wall that you step through like Alice in Wonderland, another is up the stairs and has glass walls that you'd swear people could see you doing your business through but somehow they can't. Such inventiveness, luxury and attention to detail peaks my interest every time. Does my obsession go as far as dictating where I choose to eat? Of course not, but when I think of making a booking I can't help but wonder - what will the loos be like?
- VIVA