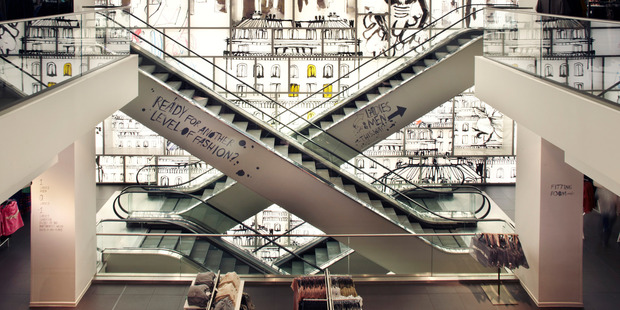 I've been in France a week and all I've bought is a pair of yellow espadrilles. They cost €7.80 ($12.50) from a supermarket and they'll have to see me through the summer.
I'm not buying any new clothes for the next few months, I've decided. I'm here to write, and the budget doesn't stretch to much beyond essentials such as coffee, tea and Comme des Garcons Patchouli. Not that it's hard to look chic on limited means these days, especially not here in the realm of the chain store, with all of the dirt-cheap riches of Zara, H&M et all at my disposal. But my feelings are complicated when it comes to high street shopping.
It wasn't always thus. Things were simpler, the last time I was poor in Europe. That was about three years ago, writing again, and living off practically nothing. In those straitened times of porridge for breakfast and soap as cleanser (it's actually fine if you use Dove, you can have that tip for nothing), a trip to H&M was just the thing to take the edge off penury.
It's hard to feel too broke when you can get a pair of petrol-blue skinny pants that look like Saint Laurent for €12. And I got those pants, believe you me, dear reader. Not just in blue either. I bought enough €12 Hedi Slimane pants to last me a lifetime.
Except that they didn't. I threw them out about six months later, as soon as they started looking knackered and ugly. That's what you do with clothes from H&M, you throw them away, and it's okay because you bought them for practically nothing.
It was okay, rather.
Somewhere over the past few years, I've lost my taste for disposable fashion. Possibly that sounds snotty. Or stuck up even, as though every stitch I wear must be artisanal. Hardly. The jumper I've got on was made in China, and at €7.80 a pair, I don't think my new espadrilles are the work of a master craftsman. Well, what of it. I didn't buy them to support a village economy, I bought them because I liked the colour. That's par for the course; when I'm shopping, I make decisions based on appearance and emotion.
This is the problem of course, I know there's probably a whole lot of stuff in H&M and Zara right now that I'd buy in a heartbeat, stuff that's so cheap I could probably afford it. I'd buy it all, even though I find the whole ethos of high-volume, low-price fashion distasteful because it doesn't stretch as far as a fair deal for workers, but it's easy to forget your principles when the dresses are so pretty.
For me, there's only one solution. I haven't been into an H&M since the blue pants era, and here and now, I'm making a public vow not to go into one this summer either. If you're in France over the next few months and you see me in the changing rooms, feel free to shame me. It's better this way - I just can't be trusted.
- VIVA