Fans of the tipple will unite to celebrate International Sherry Week.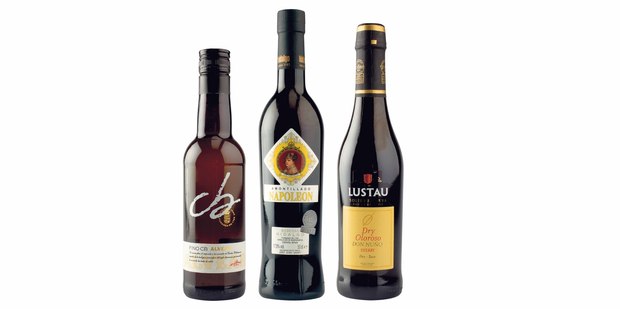 Sherry bars are booming as this unique and fine fortified throws off its old-fashioned associations to become smart and sophisticated... In cities such as London, that is. Here in New Zealand, drinkers are yet to be seduced by true Spanish sherry, but as International Sherry Week kicks off on Monday, there are some local sherry lovers keen to spread the joy.
Back when I was living in London over a decade ago, proper sherry was the preserve of a small select crowd, and often quaffed behind closed doors. However, on a visit there last year, 'Ay, caramba! how things have changed. Sherry bars have sprung up in the coolest areas, and the clientele is more likely to be hip youngsters than those with hip replacements.
But before I go any further, it's worth dispelling some common myths. True sherry is from a designated area around the town of Jerez de la Frontera in southern Spain and not the flagon-filling fortified found over here that uses "sherry" as a semi-generic term. In Australia there's less confusion since local "sherries" were renamed apera after an agreement with the European Economic Community.
Spanish sherry is not necessarily characterised by sweetness. Most are actually inherently dry, made from grapes fermented to dryness and then fortified. If they've been sweetened you'll see the terms "pale cream", "medium' or "cream". Only Pedro Ximinez and moscatel wines are naturally sweet, made with dried grapes in a dessert style.
One local establishment that has been flying the flag for sherry is Waiheke Island's Casita Miro. Its owner, Cat Vosper, became smitten with sherry after trips to Jerez during her OE. On her last visit in 2012, she decided to import a selection of sherries herself to serve at the restaurant, and is heading back to source more in June.
"We love that sherry is such a wonderful food wine and gives us so many more options with food and wine pairings," Vosper says. "Not only do we consider sherry to be the world's most civilised aperitif but also rather a terrific wine to drink on any occasion. The beauty is that there is such a variation in styles as well as diversity within these that it's possible to make a spectacular match with almost any food from anywhere."
Vosper tells me that last year Casita Miro was the only restaurant in the country celebrating what was then World Sherry Day. This year she's pleased that more are on board and has planned a spectacular eight-course tapas menu at Casita Miro with matching sherries for the Saturday and Sunday evening of Sherry Week.
"Importing and selling sherry is definitely a labour of love," notes James Barber, of wine distributors, Mineral Wine.
"The time and money spent on talking to people about it, sampling and promoting it make it pretty marginal in terms of profitability. But we love drinking it; food-matching it and getting other people enthused about it ... that's why we persevere!"
In the coming week, I'll certainly be uncorking some cracking sherries. I'll also be raising a glass to our local enthusiasts whose dedication to spreading the word about this delicious drink will hopefully one day mean it's considered as cool here as it is now in London.


SHERRY WITH FOOD
"There is such a range of styles and sweetness available in sherries that there's a lot of confusion as to which sherry to have with which dish and at what temperature," says Sophie Cotter of specialist Spanish wine importer, St Vincent's Cave. "I prefer all sherries chilled and Fino extra chilled."
Sophie recommends the following food and sherry style matches:
Fino - salty aperitif or throughout the meal. Sashimi, olives, cured cheeses, clams, boquerones, jamon, deep-fried fish
Amontillado - can handle richer food. Bouillabaisse, tuna and swordfish, sashimi, fish with a lot of spices and flavour, such as Moroccan seasonings
Oloroso - slow-cooked meat dishes, casserole with prunes, cheeses with quince paste
Pedro Ximenez - the sweetest style of sherry works well with roast nuts, cheesecake, oranges, figs, and cheeseboards


SHERRY STYLES
As New Zealanders are so used to drinking fresh, fruity, home-grown wines the taste of sherry can be something of a surprise. Sherries are far more savoury in style, often with a mellow oxidative note and wood influence from the years spent ageing in barrel that are more akin to the flavours of whisky.
Fresh Fino
Alvear Fino CB Montilla-Moriles 375ml $19
Fino is one of the lightest styles of sherry, retaining freshness from the presence of a blanket of yeast called flor that lives on the surface of the wine. This classic example combines notes of almond with Fino's characteristic briny tang and savoury yeasty undercurrent. Available from Fine Wine Delivery Company, Vetro Mediterranean Foods Hamilton and stvincentscave.com.
Nutty Amontillado
Bodegas Hidalgo Amontillado Napoleon 500ml $48
An amontillado is a fino that's lost its flor and develops a nutty richness, such as this delicious example, which fuses a fino-like salty tang with notes of hazelnut and a savoury olive character. Available from Wine Direct, Point Wines and Glengarry.
Rich Oloroso
Lustau Dry Oloroso Don Nuno 375ml $34.99
Oloroso is the richest and darkest dry style of all. This opulent and savoury one oozes concentrated notes of walnut, spice and dark chocolate, with a fresh kick to the finish. Find at Fine Wine Delivery Company.
- VIVA