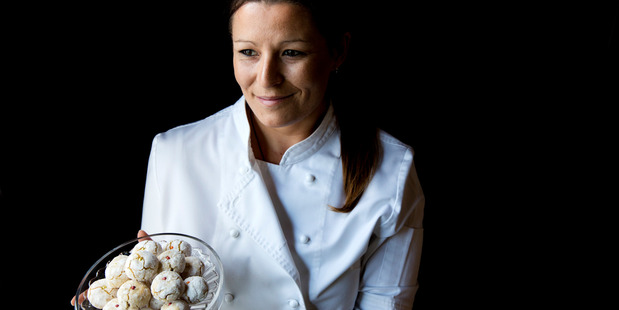 Pastry chef and former paragliding champion Jasmin Hill devoured her first soft-centred amaretti morbidi in Italy more than a decade ago, while representing New Zealand at the World Air Games in Europe. She has never forgotten the delicious sensation of biting into the traditional gluten-free almond cookie.
Having spent more than 20 years working in hospitality in New Zealand and abroad, interrupted at one stage by a broken back, the result of a paragliding accident and from which she made a remarkable full recovery, last year Hill undertook a practical patisserie course and spent many hours testing original Italian recipes before establishing Amaretti Kitchen.
"I have a drive for excellence so for me it was important to learn as much as I could to create cookies of exceptional quality.
"Researching the old Italian recipes was difficult because there is no absolute when it comes to quantities - it's the amount of moisture in the almonds that dictates how much egg white to use in each batch. And every batch is different! Getting used to the 'feel' of the mixture is the most important aspect of creating the perfect balance of crisp outer shell and chewy inner.
This is why I hand roll each cookie and make them in small batches - to make sure each one is perfect."
Hill abides by the traditional Italian recipe, which is spiked with amaretto liqueur, but notches it up a level by playing with natural ingredients.
"I want the centres to hold a surprise so I've incorporated New Zealand-grown raspberries and macadamia nuts, Heilala vanilla, Valrhona chocolate, limes, oranges and Cointreau, in various combinations and I'm getting fantastic feedback."


• Available at Farro Fresh, selected cafes and direct from amarettikitchen.co.nz.


- VIVA