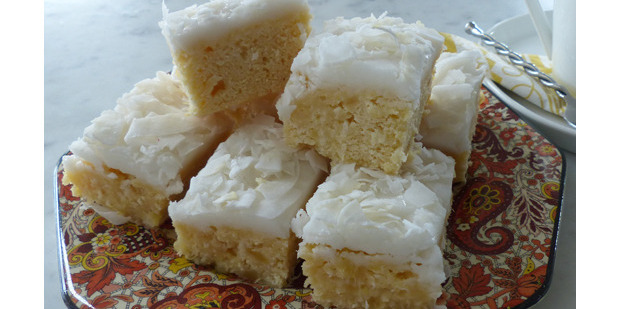 Jenny Drury, designer of boutique streetwear brand Ketz-Ke, shares her love of fashion with a passion for baking, a nice bonus for the rest of the Ketz-Ke team.
She shares her favourite recipe for a moist pineapple coconut slice with us below, saying, "It's a no-fail recipe, a winner with everyone who tries it. I can whip this mixture up in about 10 minutes - it's perfect for a busy woman."


PINEAPPLE COCONUT CRUSH SLICE
Ingredients:
• 90g butter, chopped coarsely
• 250g white eating chocolate, chopped coarsely
• 440g canned crushed pineapple in natural juice
• &frac12 cup caster sugar
• 2 eggs
• 1 &frac12 cups plain flour
• &frac12 cup self-raising flour
• &frac12 cup desiccated coconut
• 1 &frac12 cups icing sugar
• 1/3 cup shredded coconut
1. Set oven to 160C. Grease 24cm x 32cm Swiss roll pan; line base and long sides with baking paper, extending paper 5cm over sides.
2. Stir butter and chocolate in medium saucepan over low heat until smooth. Cool 10 minutes.
3. Meanwhile, drain pineapple well over medium bowl. Reserve 2 tablespoons juice.
4. Stir caster sugar, eggs, sifted flours, desiccated coconut and drained pineapple into chocolate mixture; spread mixture in pan. Bake about 35 minutes.
5. While slice cools in pan, sift icing sugar into medium heatproof bowl; stir in reserved pineapple juice. Set bowl over medium saucepan of simmering water; stir until icing is spreadable.
6. Spread icing sugar over slice; sprinkle with shredded coconut. Stand at room temperature until icing sets before cutting.
Will keep for a week in an airtight container.