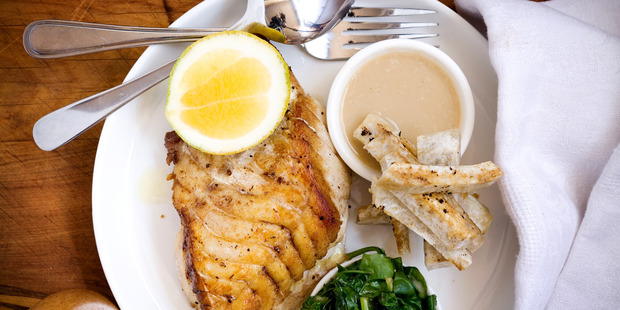 Although we're surrounded by water I've realised I'm not eating enough fish. I can't even count myself part of the nearly half of New Zealanders who eat fish once a week. Why not?
Well, summer's over so my fishermen friends have stopped pushing the boat out and I've become so used to their gifts of off-the-hook freshness; fish fillets so fresh that they glisten with an almost rosy pink glow and a quick sniff reveals nothing more that the faintest whiff of the sea. And it's free.
So here's the catch, so to speak. I know consuming fish is good for my health and I adore seafood of all varieties but to eat it often enough it needs to be fresh - and affordable.
The large supermarkets may have the buying power but their huge weekend piles of flaccid fillets, that look bruised, flat and unhappy leave me cold, and they're richly priced at that. So I'm on the hunt. I've got my favourite butcher and vegetable growers so now I need to find a decent fishmonger.
What should I be looking for? So far I've found one who is so gruff I'd venture to say he's grumpy and I don't always enjoy our interaction even though his product is outstanding.
Another is always well-stocked and he's adorable and helpful but a long way from where I live - I need to take a chilly-bin just to keep it fresh for the return journey. Someone suggested I turn to online buying, but that just seems wrong - coming home to fish on the doorstep? I'd have to fight the neighbourhood cats for it surely.
Then again, I order my meat online all the time and haven't had to beat the dogs away yet.
I'll give it a go but meantime I'll keep ducking into every fish shop I find and see if I strike it lucky. After all, fishing is all about patience and persistence.


* Where do you get your fish from? Share your fishy secrets below!
- VIVA