Janetta Mackay has attended plenty of beauty launches but this one was a performance piece.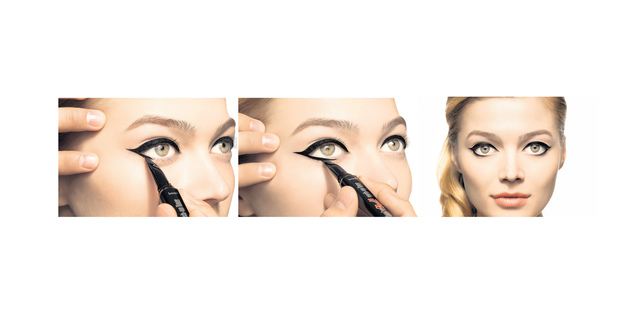 Are you excited?" exhorts the gym-honed corporate cheerleader. The captive audience is a study in cultural reaction. Some offer up "yes" immediately, a handful clap, others look confused, or confronted. A few roll their eyes. Instagrammers are inevitably at work.
Julie Bell, Benefit's executive vice-president global marketing, is in all-American action and I feel like I've been transported to a self-improvement seminar. I'm the lone New Zealander among beauty editors from 40 countries flown to San Francisco for the unveiling of what has been variously described to me as a "gamechanger" and the "beauty heist of the century".
The build-up to the trip began weeks ago, with the delivery of handcuffs, wigs and passport covers. We're in a grand old bank, with a vault in front of us, so clearly there's some theme going on.
"Are you excited?" It rings out again, more insistently. Sitting, as I am, just behind Benefit's global ambassadors, sisters Maggie and Annie Ford-Danielson, I duly issue out a "Yes." Even the attendees wearing simultaneous translation headphones are keeping up with the play.
It would be churlish not to after we were hosted the night before at a memorable private party on Alcatraz.
But curious is a better description of the audience mood, because this global press trip has clearly cost parent company Louis Vuitton Moet Hennessy a bomb. They've flown in some of the world's leading makeup artists to demonstrate the mystery new product and other hand-picked artists sit alongside media for the unveiling.
Among them is Aimee Fieberg from Auckland, who has done extensive editorial artistry in Australia and internationally. She can't wait to talk to one of her beauty heroes, Lisa Eldridge from the United Kingdom, whose online tutorials have had 60 million views.
But before we get the chance to watch the experts at work and ask them questions, we hear from CEO Jean Rougeot, who outlines how Benefit has, from small beginnings nearly 40 years ago, become post-buyout one of the fastest growing prestige brands around, on the verge of becoming a US$1 billion ($1.15 billion) company.
There's a lot at stake in what the company says is its biggest launch to date. This goes some way to explaining the hovering of petite Frenchwomen with clipboards and the hoopla only Americans can engineer. This included a carnival-like welcome to the company's HQ, where a roof-top terrace was filled with stilt walkers, fortune tellers, sideshows and food stalls.
The crime caper theme continues. Once we've been deposited inside the bank, there's Mission Impossible-style manoeuvring through laser lights. Dancers in black-body stockings are intent on raiding the vault. The priceless artefact inside? Benefit They're Real Push-Up Liner, a category first in being the first pen-style gel liner.
We are shown the impending television advertisement, which features a fugitive model - heavy-on the-eyeliner - being apprehended by police. The punchline: "If easy is a crime, she was guilty".
When I speak to Bell in a boardroom a few hours after the event, she is still seriously on message. There are the sales success stories of sister product They're Real Mascara (No.1 selling mascara in Sephora in the United States), the high expectations of "another hit with this revolutionary and innovative new product", and the long-standing senior staffer's obvious immersion in the DNA of the company's which involves "retro, girly, fun" and "easy instant beauty solutions".
Her role in the creation of the new product is more than mere promotion. It started with brain-storming and the utterance of: "What if we could create the easiest most goof-proof liner ever?"
Five years and 70 modifications later, a patent-pending pen tip was arrived at. Handily the timing is spot on, with eyeliner a current beauty favourite.
Eldridge and the other makeup artists: Hollywood celebrity favourite Jeannia Robinette, Carole Lasnier from France and Seungwan Kim from Korea demonstrate some dramatic eye looks.
Bell says she knew all along that there would be a market for an eyeliner that was easy to apply and in a lasting lash-hugging formula. "I've wanted it my whole life."
Pencils can smudge, liquids are unforgiving and gel is usually applied with a brush which many women find off-putting, she says, so bottling its benefits was the aim. Now the company will have to see how the new product sells- in New Zealand it will be available from June 27. Bell is intensely upbeat."The closer the line, the bigger the eye, the sexier the eye," she intones - several times.


- VIVA