The latest draw-on liner formulas want to make you wide-eyed in wonder. Janetta Mackay casts her critical eye over them.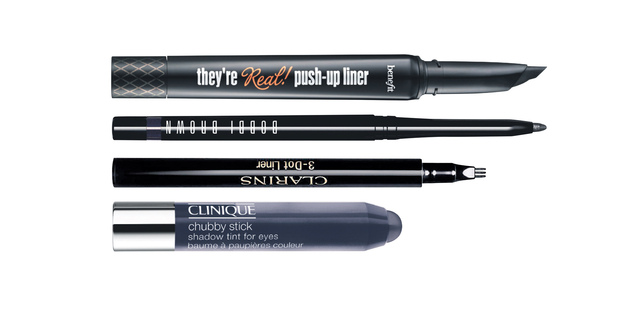 A swipe of lipstick and a swish of eyeliner is beauty's go-to look of the moment. It's also a classic combination.
Defining the eyes can be subtle or dramatic, and helps create the impression of lush lashes, so what's not to like? Yet many women are afraid of liners. Sure, it can be tricky to get the perfect line, but a bit of practice and the right products help.
Liquid delivers the finest line, but gel formulas are my favourite, thanks to their more forgiving ability to be briefly blended.
Gels have been around in pots for a while, but these tend to dry out before you've used them all up and need to be applied with a brush, so the arrival of gels in pen and pencil applicators is welcome.
Gels combine waxes and emollients with colour and don't smudge or drag in the way some other eye pencils and crayons do. The crayons are easy to apply, explaining their enduring popularity, and the good news is that the better long-wear ones now combine increased stickability with a creamy texture.
Kohl offers intensity, but in pencil form tends to be soft, so if you like this look remember to keep checking the eye area from time to time for any smudges.
The eyelid is one of the greasiest areas of the face, so if you find your eye makeup shifts about make sure you start with a clean lid or try a mattifying primer base. The lid does not need moisturising and eye cream should be applied further out, around the orbital bone.


Benefit They're Real Push-up Liner $45
The launch project for this first pen-style gel-liner was nicknamed Tar and the formula sure sticks like the stuff, requiring a good oil-based eye makeup remover. It is smudge-free, waterproof and matte black. You can sleep in it safely, as I shamefully, but very effectively, did on a plane overnight. Unlike the usual pointy tips, this rubber one is wide, angled and flat, and can be tilted to vary the width it draws. It presses well into the lashes, but my unsteady hand struggled to make the flick super-fine. Available from late June at Smith & Caughey's and Auckland International Airport airside Benefit store.
Bobbi Brown Perfectly Defined Gel EyeLiner $58
If you prefer pencils to pots, this one gives the long-lasting, flake-free benefits of gel without your needing to wield a brush. It's great for everyday ease. Another plus is that the no-drag fine crayon winds up, so there's no need for sharpeners. In six dark shades, including blacks, browns, navy and violet. From Bobbi Brown Britomart and selected department stores.
Clarins 3-Dot Liner $49
This pen-like liner has a flexible little trident tip in recognition that lashes sprout unevenly. It's not runny, so can be applied without too much drama to better define your lashline. The black-only formula is long-wearing, but not quite as glue-like as gel. From selected department stores, pharmacies and salons.
Clinique Chubby Stick Shadow Tint for Eyes $40
Chunky crayon-style pencils are so easy to use, simply draw on and blend with fingers as shadow or imprecise liner. Ideally, the product should glide on, then not shift about too much, but this varies from brand to brand. As you would expect from the company that pioneered a similar, much-imitated lip product years ago, Clinique's newer wind-up Chubby Stick for Eyes does the business. From selected department stores and pharmacies.


- VIVA