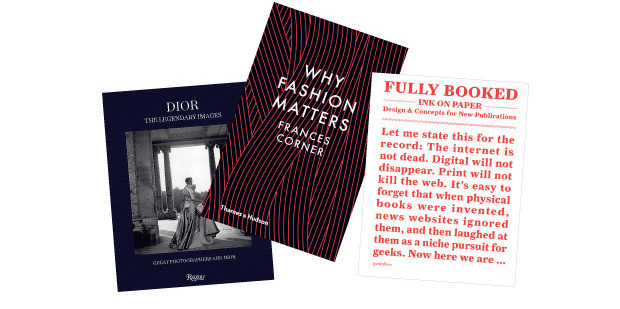 Dior: The Legendary Images: Great Photographers and Dior by Florence Muller, $119. Published by Rizzoli.
The evolution of the house of Dior and fashion photography are captured in this coffee table book, featuring images from top photographers over the past 60 years who have interpreted the codes of the house. With work from contemporary photographers Nick Knight and Tim Walker to icons Horst P. Horst, Richard Avedon, Irving Penn, Cecil Beaton and Norman Parkinson, the book also looks at the story behind one of the most iconic fashion images, Dovima with Elephants by Richard Avedon - in which the "supermodel wears a Dior sheath dress.


Why Fashion Matters by Frances Corner, $25.99. Published by Thames & Hudson.An intellectual insight into the global fashion industry. Head of the London College of Fashion Frances Corner writes essays on everything from the power of the white shirt, to the business, to the technology of fur; explaining why fashion is the ultimate form of self-expression. A fashion education.


Fully Booked: Ink on Paper edited by Robert Klanten, Matthias Hubner and Andrew Losowsky, $98, from Unity Books. Ph (09) 307 0731.Flying the flag for print, this book argues the publishing world is far from dead (we agree!) and for those who love the design, texture and feel of a book, digital just can't compare. It brings together works that push the envelope via typography, design, production and packaging.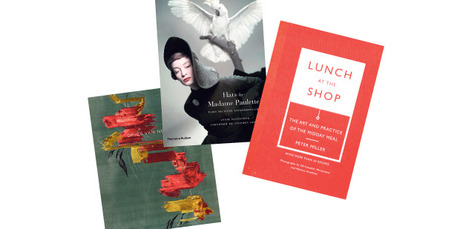 Dries van Noten: Inspirations, $100, from Scotties. Ph (09) 366 1664.
The book from the Parisian exhibition examining the wide-ranging inspirations behind the Belgian fashion designer's collections - including art, fellow designers, music and photography.
A beautiful insight into the creative process behind one of our favourite designers.


Hats by Madame Paulette by Annie Schneider, $80. Published by Thames & Hudson.Madame Paulette was the woman behind the memorable hats in My Fair Lady, and her creations were worn by the likes of Greta Garbo, Marlene Dietrich and Audrey Hepburn. Now this beautifully illustrated book looks at her career and her influence on designers present and past. Contemporary milliner Stephen Jones contributes the foreword.


Lunch at the Shop by Peter Miller, $45, from Flotsam & Jetsam. Ph (09) 361 3831.
An adorable ode to work lunches from the owner of Peter Miller Books, a design bookshop in Seattle. Every day at 12.30 he and his team shut up shop to make lunch together, savouring a peaceful moment in a hectic day. Simple salad and sandwich recipes, beautifully presented.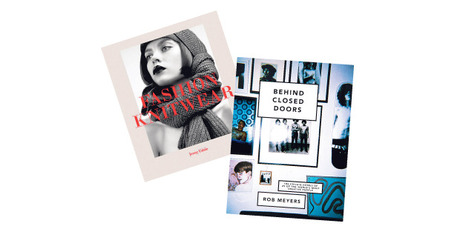 Fashion Knitwear by Jenny Udale, published by Laurence King.
Profiling 40 knitwear designers from around the world - including Missoni, Sibling, Sonia Rykiel and New Zealand's own Kylee Davis - this book looks at the innovation involved in creating modern fashion knitwear. From hand or machine knitting to crochet, macrame and jersey, each designer talks through their process and love of knits.


Behind Closed Doors by Rob Meyers, $40, from Unity Books. Ph (09) 307 0731.
Meyers sent disposable cameras to well-known people, asking them to photograph their homes - and, more specifically, their fridges. A fascinating insight, in vintage-style grainy film, into the homes of people like Martha Stewart, Courtney Love, designer Jeremy Scott and editor-in-chief of Rookie magazine Tavi Gevinson.
- VIVA