Waiuku-based leatherworker Zoli Szalardi talks about taking his fine craftsmanship to the world.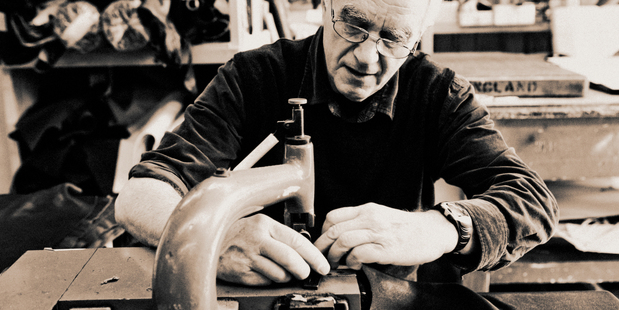 Hot on the tail of last week's Fashion Revolution Day, which aimed to encourage people to question who makes their clothes and how, it is a pleasure to discover Zoltan Szalardi - or Zoli as he is better known - is proudly creating handmade leather luggage for menswear label Rodd & Gunn from his workshop in rural Waiuku.
Leather from Italy arrives at the family-run business each month, and a small team works to craft a range of beautiful bags, which are then packed up and sent to Rodd & Gunn stores in New Zealand, Australia and across the United States. Zoli shares his story.


How did you get to where you are today?
I was born in Hungary to a family of saddle and sports goods manufacturers. My parents worked together at the time; so did many relations. The family business was well known for soccer balls that were exported to England.
The business also made saddles and other leather goods. Having been brought up with both my parents involved with leather, I naturally became interested in what was happening there.
So at a very young age, I started making watch straps to sell to my mates.
I started an apprenticeship in Budapest, Hungary, before travelling to Germany, where I completed the apprenticeship at Jeroma Leplat in Neu-Ulm. I then moved to New Zealand.
My wife and I set up a manufacturing business in Auckland in 1971.
We supplied the market for several years with our brand Desert Road before we teamed up in a joint venture with Australian-owned Oroton for eight years. The company was moved to Australia, where we stayed for 12 months. We came back to New Zealand to further develop the Desert Road brand. During this time, I designed a range of leather luggage for Rodd & Gunn.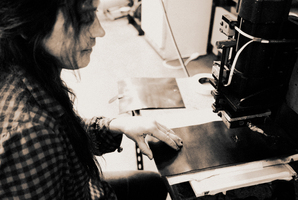 Describe where you live and work?
We moved to Waiuku several years ago and now live in a 1900s villa with an acre of garden. The lifestyle suits us. Three of our daughters live within a few minutes' drive. There are a lot of advantages living in a small town compared to Auckland city from where we came.
Our workshop studio is located on my daughter's lifestyle block. The peaceful outlook outweighs any disadvantage; in fact, I don't think we have any disadvantages.


What is it like working with five women - your wife and four daughters?
Only a very brave man would answer this! Of course, I would have it no other way. How many men would have five women looking after them? However, in recent times things have changed a little. Three daughters have left temporarily to raise families and pursue interests. However, we have an additional team of craftspeople including Craig, Jerry and Amanda. All have been with us for a few years now.


Describe an average day.
An average day would be working on bags for stores needing replenishment. Our luggage leather comes from Italy and is ordered by my daughter, who also is in charge of administration. Normally each order is 2000sq ft. Continuous supply means we would be working on one order while another order is already in transit by ship and the next order already placed.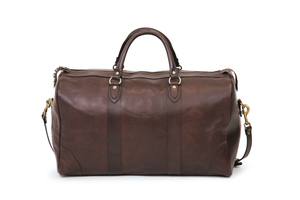 We work to requirements and because the bags are handmade, they take as long as they take to make the product we want to achieve. It takes several hours, from selecting the hide, cutting the leather; it is then split to the thickness that we require to make it manageable and pliable and still have the strength to stand up to very demanding usage. Once the pieces are cut and split, the edges are dyed. After these processes, the cut shapes are assembled together, glued and sewn.


What are the challenges you face working with leather?
Working with leather is always a challenge because it's a natural product, with variations of colour and characteristics. However, as we have been working with our tannery for over 30 years, we have pretty much got it down to a T. The leather is veg-tan which means it is tanned naturally (or bark- tanned). This is a very old traditional process. This type of leather lasts and with continual use, turns into a beautifully rich finish.
It does need a little care and by polishing with leather cream and a soft cloth, but it just gets better and better over time. Because it is dyed and not coloured, it has natural marks and each product has unique characters. Placing matching pieces together is challenging but it is very satisfying to see the end product.


In a world where fast-fashion and mass production is on the increase, what are your thoughts about the role of artisans like yourself?
It is very difficult, however there will always be a place for craftsmen and artisans to cater for fastidious customers who want to buy individual, well-crafted, handmade and local products.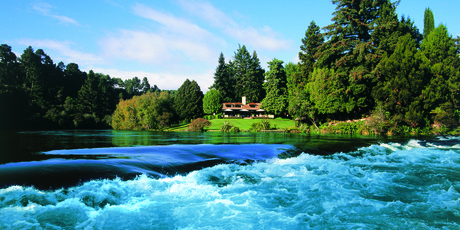 IT'S A MAN'S WORLD
Submerge yourself in all things manly - and luxurious - at the Rodd & Gunn Weekend at Huka Lodge in mid-May. Mike Beagley, managing director of Rodd & Gunn Australasia, will host the three-day event which will include a menswear fashion forecast and personal styling sessions with head designer John Prikryl and his team plus a demonstration by Zoli Szalardi on making accessories with fine Italian leather.
Guests will be taken trout fishing on a private launch on Lake Taupo, be driven in the latest Range Rover Sports vehicles and have the chance to test-drive the revolutionary Sealegs power boats.
Huka Lodge executive chef Paul Froggatt will create his world-class cuisine all weekend and put on a cooking demonstration, plus there will be a tutorial on Nant Whisky by the Tasmanian company's founder, Keith Batt. Another highlight is Saturday evening's five-course gourmet dinner with matching wines, with celebrity guest speaker Sir Graham Henry.


• Rodd & Gunn Weekend, Friday to Sunday, May 16-18. From $990 each per night, for double/twin occupancy. Also included are pre-dinner drinks and canapes, superb five-course dinners, country breakfasts and use of all lodge facilities. Return Taupo Airport transfers will be provided if required. Huka Lodge, 271 Huka Falls Rd, Taupo. To book, visit hukalodge.co.nz or ph (07) 378 5791.


- VIVA