The foursome behind street-style blog Foureyes share their favourite spots around Auckland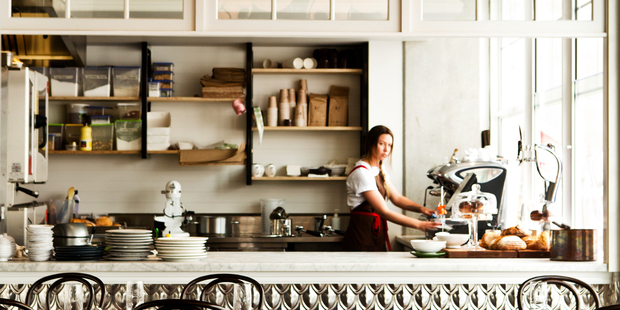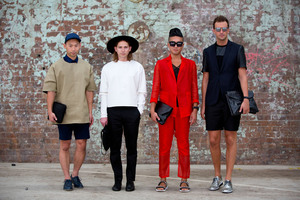 Alex Blanco, Chin Tay, Danny Simmons and Mino Kim are the masterminds of the popular street-style fashion blog, Foureyes. Between publishing their first book last year (buy a copy here), snapping Auckland street style and balancing their "regular" day jobs, the foursome find time to sit back and relax on their weekends - they share a few favourite haunts.


FIRST THING...
Alex: My usual jaunt during the week is Sheinkin on Lorne St - they do what I think is the best coffee around and also have a salmon lovers bagel that is sooo good. On the weekends, I love to go to Yum Cha at Grand Harbour at the Viaduct or The Store at Britomart as they do a great eggs bene.
Chin: I recently tried La Bottega Bakery in Kingsland and am keen to go back again as soon as I can. The service is friendly and the bombolone, an Italian filled mini-doughnut, comes highly recommended.
Danny: I'll definitely be heading to Sri Puteri in Panmure at some point for one of my favourite breakfasts of Roti Canai. L'Oeuf in Mt Albert is definitely on the cards, too.They probably have one of the most exciting breakfast menus in Auckland.I love their Nest.
Mino: I really like Takapuna Beach Cafe in summer; so nice to just sit out on the deck with a view of the beach and Rangitoto.
They do a really good eggs bene and rosti with egg and smoked fish. In winter, I quite like Benediction for its lofty space and really great brownies and milkshakes (I always ask them to leave lumps of icecream in it).


DRINKING...
Alex: My go-to drink is gin and tonic but I love the mojitos and passionfruit martinis at SPQR and also a spicy cocktail they serve at Cafe Hanoi called The Shaman that has vodka, honey, chilli and ginger syrup. Mmm, I am suddenly feeling thirsty!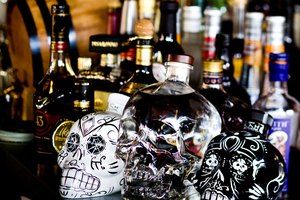 Chin: I'm not a huge drinker so I'm loving Bedford Soda & Liquor at Ponsonby Central, where they have a bunch of great sodas and iced teas. I love the blueberry pomegranate iced tea for a non-alcoholic option and their Tequila Daisy for an alcoholic one.
Danny: Masu for their 100 Medicines, a gin martini spiked with sake and orange.
Mino: I love the vibe at Golden Dawn, so like to go get a G&T there and also love the espresso martinis at SPQR. On a recent trip, I discovered coconut vodka on the rocks, which I am obsessed with - I am still to find a bar in Auckland that serves it, so if anyone knows of one, let me know.


DINING...
Alex: I love basically everything on the menu at Ebisu in Britomart. Last time I went they had a seared scallop roll on the menu that was to die for. I also have a weakness for Chicken Karaage. The setting is that perfect mix of casual yet sophisticated. Baduzzi in Wynyard Quarter also does amazing meatballs.
Chin: KK Malaysian in Epsom has been around for years now. It's low fuss and authentic. The KK Special Chicken and the Mummy Chicken are musts, and their laksa is delicious, too. There are always Malaysian diners there so that must be good, right?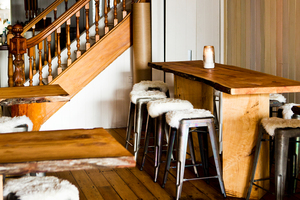 Danny: I think Orphans Kitchen has some of the best food in Auckland. Their gnocchi is amazing and lately they've had fresh truffles to shave all over it, so it's definitely on my weekend eating list. SPQR is a regular favourite, too, I love their scampi-tail linguini.
Mino: I really like SPQR - especially the paella. I am also a huge fan of Korean cuisine (being Korean) so I like Faro on Lorne St for my Korean barbecue fix or OBar on Lorne St, which feels like you are actually in Seoul.


DISCOVERING...
Alex: A couple of weeks ago, Mino and I checked out L'Oeuf Cafe in Mt Albert and found the menu fascinating. Between two of us we had The Nest and The Geisha, a couple of coffees and a lassi and everything was perfect - and there wasn't even an eggs bene on the menu (not that I don't love eggs bene).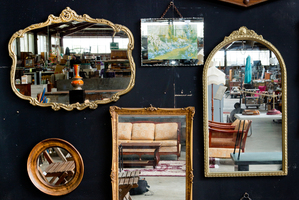 Chin: I recently discovered Junk & Disorderly in Northcote. It's a great secondhand store that sells everything. The last time I was there, I walked away with a couple of fish-shaped glass plates for $4. Everyone needs fish-shaped glass plates in this day and age.
Danny: X-Plain in Newmarket is a great new clothing store stocking not just their own label but also Jimmy D, Lela Jacobs, Kowtow, Maaike and more.
Mino: Since we published the Foureyes book, bookstores have been more on my radar and I have only recently discovered Unity Bookstore on High St (which I know has been around for a long time). I love the selection of fashion books they have there.


TRYING...
Chin: Piccoli Piatti in Herne Bay. I've heard great things about their shared plates and I love Italian food, so am really keen to give them a go.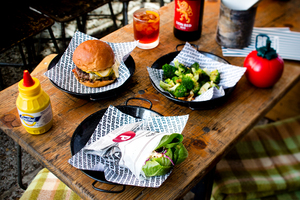 Danny: Burger Burger at Ponsonby Central looks so good. Chances are I would have been there multiple times by the time anyone reads this.
Mino: I have wanted to do Bikram yoga for the longest time. I love a good sauna and I also love yoga, so the combo sounds like a good one. Also La Bottega Bakery in Kingsland. I have seen pictures and those pastries look good.


ANTICIPATING...
Alex: Semi-Permanent starts this weekend, so I am definitely looking forward to that - I have never been but hear that the speakers from all kinds of creative backgrounds are really inspirational.
Chin: I'm looking forward to seeing the Wildlife Photographer of the Year exhibition at the Auckland Museum. Nature never ceases to intrigue me.
Danny: The Semi-Permanent design conference. I haven't been for a few years now so I'm looking forward to a good two-day dose of inspiration.
Mino: I have had so much on recently that I am living week by week. Is it too early to be excited about New Zealand Fashion Week [in August]?


NIGHT BRINGS...
Alex: I like a laid back Saturday night because weekdays are usually so busy with work and events for Foureyes, but like to try out new restaurants and bars. Or we just hang at a friend's place chatting over a drinks.
Chin: The movies. I rarely have time to go to the movies but I'm looking forward to watching Nymphomaniac. Lars von Trier is so good at what he does.
Danny: Home. I know that sounds sad but I hardly ever get to have a relaxed night in with a DVD and delivered food.
Mino: I really enjoy having a few drinks with friends on a Saturday night, either at home or out somewhere like Ostro, Golden Dawn or SPQR.