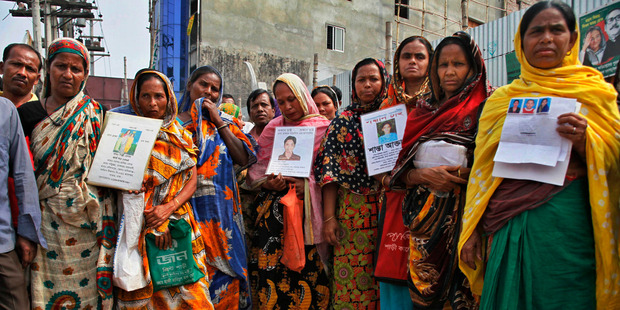 Stop and take a moment to think about what you are wearing right now. Who made it? Under what conditions? Is the building they work in safe? Do they have fair workers' rights? Were they paid a living wage? Where did the fabric come from? Did anyone suffer in the process?
These are the questions the founders of Fashion Revolution Day want fashion consumers around the world to ask today (April 24), the one-year anniversary of the Rana Plaza factory complex collapse in Bangladesh that killed 1133 textile workers and injured more than 2500.
"Rana Plaza was inevitable," says Carry Somers, UK-based founder of Fashion Revolution Day, who describes the catastrophe as a metaphorical call to arms.
"There are ever-longer supply chains and a resulting shift in responsibility. However, this was a tragedy that could have taken place in any fast-fashion producing country. Rana Plaza happens to be in Bangladesh. What happened reflects a global trend of increased 'demand' which feeds the fast fashion supply chain."
Somers' idea for an annual global initiative to demand a more ethical fashion industry came in the days following the collapse. Supported by the likes of Livia Firth, an influential champion of sustainable fashion, and environmental journalist Lucy Siegle, author of the must-read book To Die For: Is Fashion Wearing Out the World?, Somers plans for the day to be a longstanding campaign that encourages consumers to put pressure on companies to take their responsibilities seriously and demand transparent supply chains.
Who made my clothes? It's a question every designer and retailer should be able to answer - though many can't, what with increasingly long and complicated production chains that can see several workers produce just one aspect of a garment - and is the basis of the first Fashion Revolution Day. As well as remembering those who lost their lives in the Rana Plaza disaster, the organisers hope the day raises awareness of the true cost of fashion and celebrates those involved in creating a more sustainable fashion industry.
"Consumer demand can revolutionise the way fashion works as an industry. If everyone started to question the way we consume, we'd see a radically different fashion paradigm," says Somers.
Firth recently talked to the Telegraph about the necessity of changing the way we consume, describing it as active citizenship and taking responsibility.
"Over the last 15 years we've been brain-washed. How do you join the dots, reconnect the consumer with the clothes they buy; make an emotional bond that goes back to the producers, the women and men who make our clothes?"


April 24 is Fashion Revolution Day. Here's how to be involved
• Wear an item of clothing inside out, photograph it and share it on social media with the hashtag #InsideOut
• Tweet: "Today I'm wearing my (shirt/dress/T-shirt etc) #InsideOut because I want to ask @(brand/retailer), Who Made Your Clothes?"
• Be informed! Continue to ask questions, not just tomorrow.
• Watch the documentary Rag Trade here
• Look out for the upcoming TV3 show Back To The Source, following young New Zealanders as they experience what live is like for those making their favourite products.
• For more information on Fashion Revolution Day visit the website
- VIVA